For the last several weeks, the economic collapse and subsequent food shortage in Venezuela has been a powder keg waiting to explode. More than 50 riots and protests have erupted in the streets of a country where, despite boasting one of the largest oil reserves in the world, people are struggling to feed their families on a daily basis. At least five people have died during the recent wave of mass looting, including a 4-year-old girl who was shot dead as rival gangs warred over supplies at a government-owned grocery store in Guatire, a suburb of Caracas.
While the world has seen the food shortage in Venezuela grow into a full-fledged crisis in recent days, a new report from the New York Times details just how dire the circumstances have become. In his article, Andes bureau chief Nicholas Casey paints a portrait of a militarized country starving to death, with soldiers standing guard over bakeries and butcher shops, firing rubber bullets at citizens desperate with hunger.
Citing data from Simón Bolívar University in Miranda State, Casey reports that an unthinkable 87 percent of Venezuelans now claim to not have enough money to feed themselves. For those who can afford food, it costs them 72 percent of their monthly wages, according to the Venezuelan Teachers Federation's Center for Documentation and Social Analysis. Under the country's current economic climate, a family would need 16 minimum-wage salaries to provide an adequate amount food for itself.
"My kids tell me they're hungry," one woman told the Times. "And all I can say to them is to grin and bear it."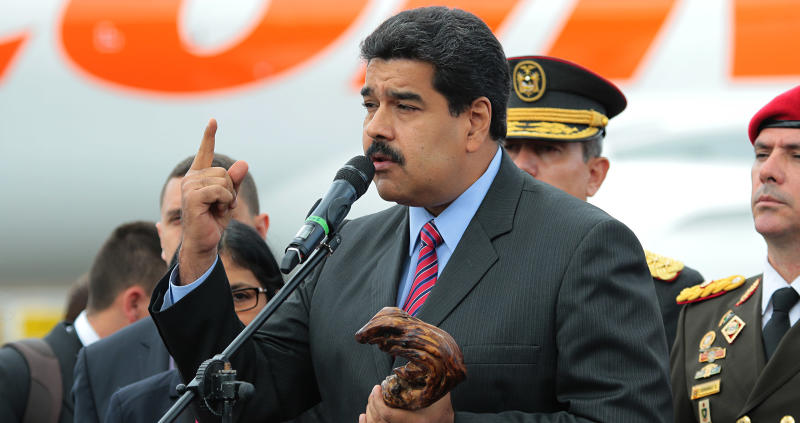 "We are now living on Maduro's diet," she continued, referencing the country's president, Nicolás Maduro. "[N]o food, no nothing."
According to the article, Maduro—a former bus driver who previously served as minister of foreign affairs under Hugo Chávez—has responded to the crisis in his country by seizing greater control of its food, putting distribution into the hands of "a group of citizen brigades loyal to leftists." Critics have made comparisons between the current situation in the country and the practice of food rationing in Cuba.
"They're saying, in other words, you get food if you're my friend, if you're my sympathizer," the director of a human rights organization told the Times.
Having grown increasingly unpopular during the food shortage and economic collapse, Maduro is currently facing the possibility of a recall referendum.
[via New York Times]