Richard Axton is making America great again, one Beefy Crunch Burrito at a time.
This dedicated Tex-Mex fan devoted five years of his life to bringing his favorite menu item back to Taco Bell restaurants nationwide. Now, a new video from the fast-food chain charts the journey of this "unstoppable force," detailing how Axton was able to mobilize roughly 400,000 people and demand the return of his beloved Beefy Crunch Burrito.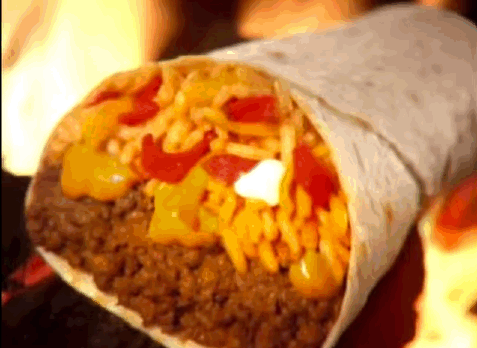 Stuffed with ground beef, flamin' hot Fritos, and nacho cheese sauce, the Beefy Crunch Burrito has achieved a cult status in recent years. For Axton, his activism began in 2011, when he attempted to order the fast-food amalgamation at a Taco Bell drive-thru and was informed that the restaurant no longer sold his favorite item.
An acute mixture of "anger and disappointment" swept over him in the moment, ultimately inspiring Axton to start a Facebook page for the Beefy Crunch Movement. The page quickly became a rallying crying for disenfranchised burrito enthusiasts everywhere, and currently boasts more than 41,000 members.
Two years after Axton drove away from Taco Bell empty-handed, the chain posed a simple question to its followers on social media: "What would you do to bring back the Beefy Crunch Burrito?" Axton recalls this being the moment when the "craziness started." Thousands of fans responded to the social media call-out, and at least four people got Beefy Crunch Burrito tattoos.
Last year, Axton organized his army to troll Taco Bell's social media accounts, making sure that the company's pages were infiltrated with posts about the Beefy Crunch Burrito. About a week after the attack began, Axton tried to negotiate a peace offering with the company.
"If you can give us a gesture on your part that good things are coming, we'll have patience for a little bit longer," he told Taco Bell headquarters.
Earlier this year, the chain announced that the Beefy Crunch Burrito would finally be available at Taco Bells nationwide through Sunday, July 10th. The video above shows Axton entering the company's headquarters to a hero's welcome, shaking hands with Taco Bell's CEO and basking in the glory of his victory. Today, Axton hopes his success inspires others.
"It doesn't matter what it is that you're fighting for, whether it's as small as a burrito or bigger things," he says in the video. "You do have a voice, and whatever you have a passion for, go for it, fight for it."
[via Taco Bell/YouTube]