Selling food on the streets of New York City is not an easy business. Late last month, the New York Times released a bombshell report detailing the violent turf wars brewing between ice cream trucks in Midtown Manhattan. Mr. Softee, the city's longstanding ice cream purveyor, had been "muscled" out of the lucrative real estate by a new company called New York Ice Cream.
Now, a new report from Crain's, published Sunday, shines a light on the shadowy black market food cart operators must navigate in order to obtain a small, coveted batch of licenses. In 1981 Mayor Ed Koch capped the number of citywide permits for  food trucks and carts at 3,000, and ever since the demand has far exceeded the supply.
The food cart operators—many of whom are recent immigrants to the U.S.—must shell out as much as $20,000 for a two-year license from the permit's legitimate holder. One of the owners Crain's spoke with—a 54-year-old immigrant from Afghanistan identified only as "Steve"—leases his permit for $10,000 a year and supports a wife and five children on less than $700 a week. Another Afghan man, Sharif, pays a percentage of his earnings to "a guy in New Jersey," even though he built his cart with his own hands. Both men have been selling food and coffee in New York City for decades.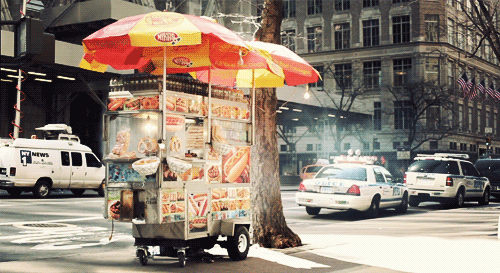 "Sharif and Steve are just two of the thousands of unwitting lawbreakers in a black market for cart permits that operates in plain sight of the city's enforcement agencies," the article reads. "That black market is worth an estimated $15 million to $20 million a year, costing the city millions of dollars in potential fees while making it harder for immigrant entrepreneurs to build equity and take the first step up the economic ladder."
According to Crain's, this system has been a disaster for the city and its immigrant population. Many vendors have been toiling on New York's streets for roughly two decades, first entering the business back when Mayor Rudy Giuliani tried, unsuccessfully, to instate a "one-person, one-permit" rule in 1996.
Beyond the exorbitant price of the black market permits, vendors are also required to pay roughly $600 per month to store their carts in over-night commissaries. The odds of making a decent living seem to be hopelessly stacked against cart operators, and city officials seem unable—or unwilling—to change the current paradigm.
"The black market preys upon working-class immigrants, discourages entrepreneurship and has done nothing to foster financial security," the article reads. "The vendors who started under Giuliani are now well into middle age, and most have little to show for their decades of hard work."
[via Crain's]