Customers at a Sandy Springs, Georgia Waffle House got an off-the-menu peep show earlier this month. Last week, 36-year-old Bashir Rasheed emerged completely naked from a BMW sitting in the restaurant's parking lot, NBC 26 reports.
Upon seeing the nude man pacing outside the restaurant, a customer named Derwin Rodgers, who was eating lunch at the time, took out his phone to stream the experience to his friends using Facebook Live. 
"It kind of shocked me as a customer, ruined my meal," Rodgers told WSB TV. "I immediately went to video. I didn't know what he was going to do."
Rasheed was described as being incoherent and Rodgers recalled that the butt naked man blabbering about the hot Atlanta weather. "He was saying a lot of different things. He's hot, he's burning up," Rodgers said. "It must have been Death Valley out here. He was butt naked."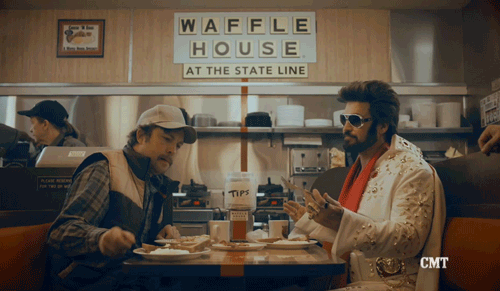 Rodgers also added that Rasheed was "built like a potato." Still, a Waffle House employee had perhaps the most sensible response, calling 911 and reporting the incident.
"This is the Waffle House. A gentleman just got out of his car and is naked standing in front of my door," the worker said on the call. "He just peed on my door and now he's walking inside. 'Sir, you cannot come in here.'"
Unable to force his way into the diner, Rasheed eventually retreated to his car and police arrested him down the street. He was charged with indecency and taken to the hospital. '
While Police have yet to determine the motives behind his strange behavior, Rasheed is not the only one who thinks a birthday suit is appropriate fast-food restaurant attire.
Earlier this year, a woman stripped at a Kennesaw, Georgia Waffle House and went on a violent rampage at the restaurant. On Wednesday, a 27-year-old Oklahoma City man was arrested for trespassing in a McDonald's bathroom, where he was found naked and covered in bubbles. He justified the behavior by saying he was a paying customer. But really, who doesn't feel a need to bathe after downing a Big Mac?
[via Huffington Post]