McDonald's is looking to spin off thousands of its restaurants in China, and the result could add up to a whole lot of dollar menu items—about 3 billion of them. 
The Chicago-based fast-food chain has received over half-a-dozen bids for its locations in mainland China and Hong Kong, Reuters reported Wednesday, and the auction could reach a total of $3 billion.
Though a McDonald's spokesperson claims a decision hasn't been made yet, and that "it would be premature to speculate further,"​ so far bidders include Beijing Tourism Group, ChemChina, and Sanpower, a technology and real-estate firm. Larger buyout firms including Bain Capital, TPG Capital, and Carlyle Group are also in play, though they declined Reuters request to comment on the confidential business dealings.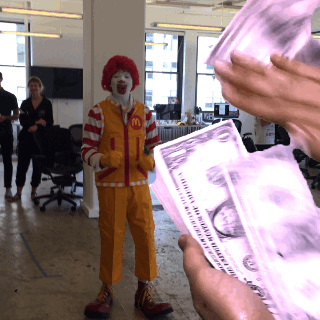 In March, McDonald's announced that it would be reorganizing its business structure in Asia, seeking local partners to run the overseas franchises. The corporation also said that it plans to open 1,100 new stores in China over the next five years, according to the Wall Street Journal.
Currently, the fast-food chain operates roughly 2,800 stores in mainland China, Hong Kong, and South Korea. McDonald's also plans to sell its 413 Taiwan-based stores, and the sale of its South Korean location will be handled in a separate deal. One overarching goal of the sales is to help localize the restaurants and prevent losing business to domestic competitors. A bevy of recent food safety and health scares at fast-food chains in the region have also reportedly impacted McDonald's decision.
"Given the difficulties Western chains have had recently with public perception, local players have become a serious competitive threat," Elizabeth Friend, a consumer foodservice analyst at Euromonitor International, told Reuters.
McDonald's is China's second most popular fast food chain, just behind Yum Brands, a competitor which operates the country's KFC and Pizza Hut restaurants. The company's China locations are also home to some unique menu items, like the Pork Loin McMuffin, the Custard Egg McMuffin, and a number of other variations on the chain's American menu.
[via Reuters]