Martha Stewart's reputation as a rebel is well known. She's been to prison; she's chugged 40s on late-night TV; and now she's showing presidential candidates who's boss.
Earlier this week, Harvey Weinstein threw a star-studded fundraising event for presumptive Democratic nominee Hillary Clinton at the Hollywood producer's home. At $33,000 a head, the event was reportedly filled with celebrities—Leo DiCaprio, Jennifer Lopez, Sarah Jessica Parker, and Matthew Broderick were all in attendance—and pulled in roughly $1.8 million for the Clinton campaign.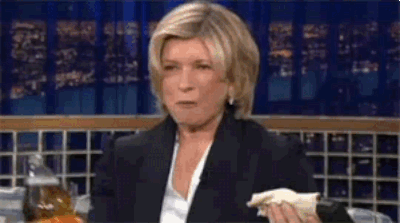 There was one rule, however, that all 50 guests, regardless of celebrity status, had to abide by: "No tweeting, no photos, no anything," Page Six reported.
Still, Stewart is a renegade, and renegades don't play by the rules. The lifestyle goddess was reportedly the only guest to completely disregard Clinton's request. An anonymous source later painted the scene for Page Six vividly:
But though "everyone [else] obeyed the no-social-media rules," an insider said, "Martha was the only one who didn't. It was like, 'No rules for Martha!' She was up in Hillary's face—not only with an iPhone, but with like a Canon camera."
The sources said, "To a person, everyone noticed" at the dinner for 50, where seats went for $33,000 each.
With over 3 million devoted acolytes on Twitter, Martha Stewart won't be censored by anybody—not even a Clinton.
[via Gawker]