If you're under 40, chances are you probably keep a smartphone charger in your car, purse, or backpack. We've all been out and about when that low battery icon pops up, ruining the night's plans for good. But now, at select KFC locations in India, you'll be able to eat a meal and make sure your phone stays charged—all for a fast-food price.
Earlier this week, KFC India unveiled the aptly titled "Watt-A-Box," a five-in-one meal combo that comes with a chicken sandwich, chicken strips, a side, a beverage, and, yes, a built-in phone charger.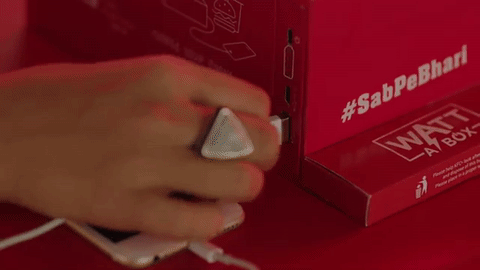 The charger pack is removable from the food box, and each meal comes with an Apple lightning cord, as well as a micro-USB plug that works with Android phones. 
Don't get your hopes up too high, though. Even in India, the Watt-A-Box isn't being sold over-the-counter. Instead, it can only be won through in-store contests in select cities, as well as online. And if that didn't dash your hopes enough, reports are already saying the battery pack is bogus, only charging an Android 7% before dying. 
The move to keep customers connected while eating fried-chicken seems like a winner, but with issues already starting to surface with the Watt-A-Box, KFC may have been better off taking a page out of Chick-fil-A's book. Earlier this year, the Georgia-based fast-food chain rewarded customers with free soft-serve cones for staying off their phones during family meals. 
[via Food Beast]