A quaint cooking paradise nestled in Provence, France is available for rent from Airbnb, and if you've got $639 to spend each night, it can be yours for a weekend getaway. But one thing travelers will no longer see on the listing for the cottage is the name Julia Child, despite the fact that the culinary legend lived and cooked there for much of her life. 
The French kitchen—and the house it sits in—is the point of contention in a lawsuit filed against the popular home-sharing website. The Julia Child Foundation, which has controlled Child's estate since her death in 2004, says Airbnb was explicitly told not to use the chef's name or likeness in their advertising for the house. These were instructions the company ultimately ignored, the lawsuit claims.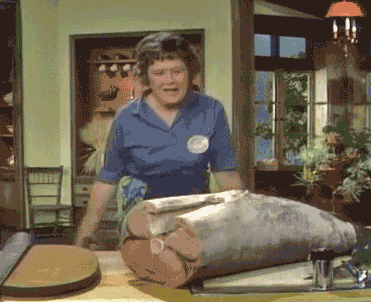 According to Quartz, Airbnb used Child's name in a promotional email advertising a giveaway for a stay at the Provence home, as well as in a series of Tweets, Instagram photos, and Facebook posts. Airbnb has taken Child's name off of the current listing, but the photos of a peg-board lined kitchen with hanging pots and knives will look familiar to anyone who knows the late chef's work.
And while Airbnb refuses to comment on current litigation, the court papers are public information. "Notwithstanding expressly being denied permission to do so, Airbnb … engaged in a broad marketing and promotional campaign … to win a free night at the 'Former Julia Child Home,'" the complaint states.
And if you're wondering why the foundation didn't just partner with Airbnb when it came to advertising the home, Anthony Bourdain might be able to shed some light on Child's business interests—or lack thereof.
"Though uniquely situated to do so, she never endorsed a thing," the chef said in 2012. "Not a pot, not a pan, not a chain of restaurants, not a spice blend, apron, or boil-in-the-bag dinner."​