On Wednesday, in the aptly titled article "FDA Ruins Raw Cookie Dough for Everybody," the New York Times reported the tragic news that the Food and Drug Administration is getting serious about stopping the nation from licking the proverbial spoon. While the use of raw eggs has typically been the reason why parents pull their children's fingers out of the mixing bowl, a recent outbreak of E. coli linked to contaminated flour is now causing the new, cruel mandate.
In recent weeks, General Mills has already issued a voluntary recall of 10 million pounds of flour sold under three brand names—Gold Medal, Signature Kitchen's, and Gold Medal Wondra—and the FDA now believes the contamination is making raw cookie dough more dangerous to consume than ever.
"Do you find it hard to resist gobbling up a piece of raw dough when making cookies, or letting your children scrape the bowl? Do your kids use raw dough to make ornaments or homemade "play" clay? Do you eat at family restaurants that give kids raw dough to play with while you're waiting for the food?"​ the administration wrote in a press release. "If your answer to any of those questions is yes, that could be a problem. Eating raw dough or batter—whether it's for bread, cookies, pizza or tortillas—could make you, and your kids, sick."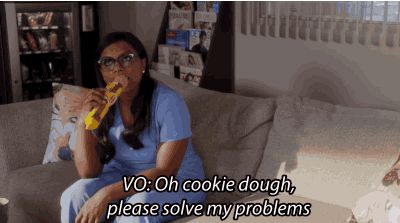 While most Americans were already aware that eating raw cookie dough wasn't a particularly healthy idea, the fear largely came from uncooked eggs and the risk of contracting Salmonella. In recent years, companies like Edoughble and Cookie DO have created egg-less, safe-to-eat versions of cookie dough for consumers. 
Still, it turns out that flour is actually most susceptible to caring food-borne illnesses because it comes directly from the field and is typically not treated to kill bacteria, according to the FDA. "Kill steps" like boiling, roasting, microwaving, frying, and yes, baking, are often enough to safeguard consumers, but with raw dough, bacteria can survive.
"Flour is not the type of thing that we commonly associate with pathogens," Jenny Scott, a senior adviser in the FDA's Center for Food Safety and Applied Nutrition, told the Times. "For the most part, the risk from flour is pretty low, and most use of flour involves a 'kill step' — people bake with it."
The news, while tragic, isn't totally awful for ice cream lovers. The FDA claims that while those who love cookie dough ice cream should not attempt to make it at home, buying the product commercially is okay because "manufacturers should use ingredients that include treated flour and pasteurized eggs."
[via New York Times]