America's love for chicken sandwiches and waffle fries seems to know no bounds. According to a new report from the American Customer Satisfaction Index, released Tuesday, Chick-fil-A remains the highest ranking fast-food chain in the country when it comes to customer satisfaction. 
The Atlanta, Georgia-based restaurant company—which boasts 2,000 locations in 43 states and Washington, D.C.—earned the same honor last year, with the report claiming that fast-casual chains "typically offer better ingredients, freshness, and more developed décor." Still, despite Chick-fil-A's success in the past, 2016 saw the chain expand its reach even further across the country while pulling in some $6 billion in sales.​
After polling 5,000 restaurant-goers in March, ACSI reported that Chick-Fil-A earned a top score of 87 points out of 100 in 2016, beating its score of 86 from the previous year. The fried-chicken chain was followed this year by pizza purveyor Papa John's, which earned a score of 82 points. 
"[Chick-fil-a] has a pretty limited selection of offerings and are really focused on chicken and chicken sandwiches," Forrest Morgeson, the director of research at ACSI, told CNN. "They focus on what they do best, and it does well."
Though Chick-fil-A is beloved by many, the restaurant also has a reputation for ruffling feathers. Known for donating money to anti-gay groups and denouncing same-sex marriage, the company has become synonymous with close-minded, conservative politics to some. While Chick-fil-A opened its first outpost in New York City last year, and has since looked to expand its operations in the five boroughs, Mayor Bill de Blasio recently called for a boycott of the restaurants over the company's anti-LGBT history. 
Still, American diners voted Chick-fil-A as its favorite fast-food yet again, while the fast-casual chain Chipotle was left noticeably in the dust after earning a second place score of 86 last year. Chipotle has recently taken a serious hit in sales, and the chain's new new score and ranking— 78 and 9—are likely due to a number of highly-publicized health scares at its locations.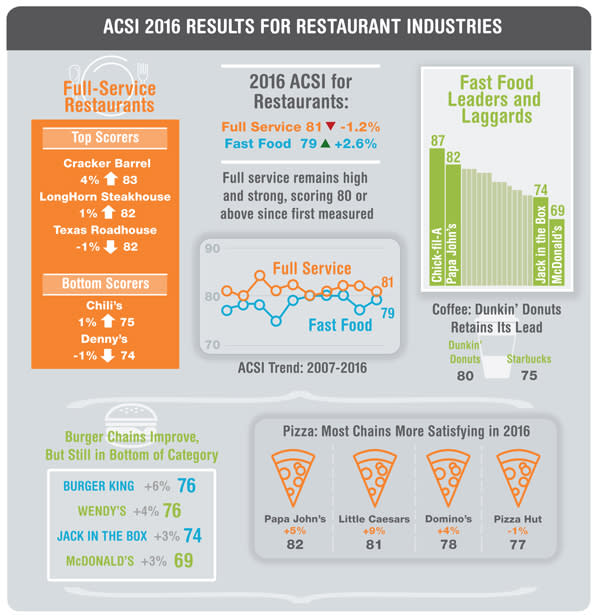 McDonald's, which has long faced an identity crisis with millennials, also struggled a bit in the report this year, ranking lowest overall with 69 points. Still, nearly every-fast-food chain rated higher with customers this year, excluding Chipotle. 
"Higher quality drives the improving scores for the industry, but quality issues relating to food-borne illnesses knock down Chipotle," David VanAmburg, ACSI managing director, said in a press release. "Just as Netflix's stock took a dive after the singular event of its pricing and Qwikster branding misstep in 2011, Chipotle's stock also has fallen after its food-quality crisis. Netflix rebounded rather quickly, but it can take more time for a restaurant to recover from quality issues."
[via CNN]