Carl's Jr. is taking full advantage of the newest NFL franchise relocation. The burger chain recently recruited running back Todd Gurley of the Los Angeles Rams to star alongside actor Jay Mohr in its new ad campaign. Rolling out the welcome wagon for Gurley, Mohr—reprising his roll as an over-eager sports agent, à la Jerry Maguire —hands the athlete one of the chain's new California Classic​s.
While Gurley seems to enjoy the gift, there's just one problem: Carl's Jr. may have gone a little too Hollywood with the commercial, replacing the double-cheeseburger with what appears to be a CGI replica. Viewers could clearly tell that the burger was made using movie magic, witnessing Gurley take a giant bite of air instead of beef.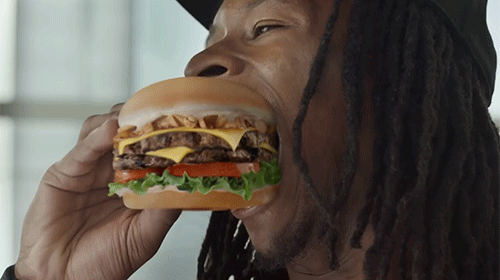 Whether the CGI burger was placed in the commercial with the intention of angering the Internet remains unclear, but Twitter still had a field day with the special effects faux pas none-the-less. 
As it turns out, Carl's Jr. had a response ready for all its haters, tweeting a GIF of Gurley chomping into a real Cali Classic. For all we know, this was the punch-line the burger chain was waiting for the whole time. 
[via Munchies]