When two stars with as much street cred as Anthony Bourdain and Questlove hop up on the stand, you can expect some disses and some props.
Speaking at an event at Urban Outfitters in New York City, the unlikely duo discussed Questlove's new book "Something to Food About: Exploring Creativity with Innovative Chefs," as well as the drummer's recent reinvention as an Internet gourmand.
Bourdain, a well-known culinary curmudgeon and food-purest, questioned Questlove's motives for posting on the 'gram.
"The people who are looking at it, do you want them to feel bad about themselves?" Bourdain asked to laughs from the crowd. "You're hoping that they're sitting in some shit-stained underwear on their couch eating Cheetos."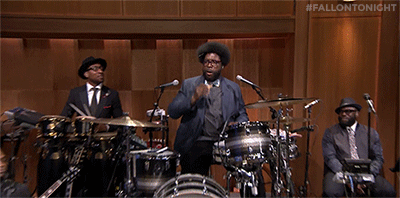 Questlove insisted he was hoping to "educate" his followers, but Bourdain persisted, hypothesizing on how the Internet has changed the way people dine.
"This is the way we experience food now," he said. "This is the way we go out to dinner. This is the way we talk about dinner. And however much we might want to sneer at that, it has completely changed who's eating dinner."
"I don't know who's eating at Le Bernardin these days. In my day, you would be spending that disposable income on cocaine or concerts," he continued. "Now they're spending it on dinner. That's a big change, and it's your fault, that's what I'm saying."
Still, despite the light-hearted accusations, Bourdain got schooled on his Tonight Show manners by the drummer. Questlove, who plays in Jimmy Fallon's house band, the Roots, was quick to inform the Parts Unknown host that other celebrity chefs like David Chang and Martha Stewart frequently send munchies to the set—unlike Bourdain.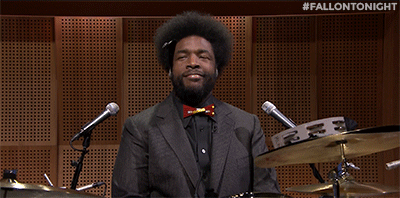 Ultimately, the two stars were at least able to agree on one thing: the Cronut. It's not that the they were hating on Dominique Ansel's Frankenstein creation per se, it's just Bourdain and Questlove know where it's really at. The two foodies agreed that the DKA—a crusty, buttery, sugared Breton pastry, and peanut butter Captain Crunch—is Ansel's crowning achievement.
The drummer revealed that Ansel had a big-money offer for his cronut secrets, but stayed true to himself, untempted by the dollar signs.
"[Ansel's] response was so underground rap to me," he said. "It made me feel like I was Diddy or somebody."
[via Eater]