Following a new set of Chinese Dietery Guidelines, which encourages the country's some 1.3 billion citizens to consume less pork and beef products, Arnold Schwarzenegger and Terminator director James Cameron are trying to convince China to say "hasta la vista" to eating meat. (Sorry.)
"If they tell you to eat more meat to be strong, don't buy it," Schwarzenegger says in the video, standing in a sweat-stained t-shirt in front of a green screen. "Less meat, less heat, more life." 
In the PSA—which was produced in collaboration with the anti-poaching organization, WildAid—the former Governator also states that he "feel[s] fantastic" after "getting off meat. And while the phrase "Less meat, less heat, more life" may not be quite as catchy as "I'll be back," or "Get to the chopper!" the new guidelines from the Chinese government are an attempt to clean up the environment, while also encouraging people to lead healthier lifestyles.
According to the World Health Organization, cases of diabetes are skyrocketing in the country, and 27 percent of Chinese women and 28 percent of Chinese men are currently either obese or overweight.​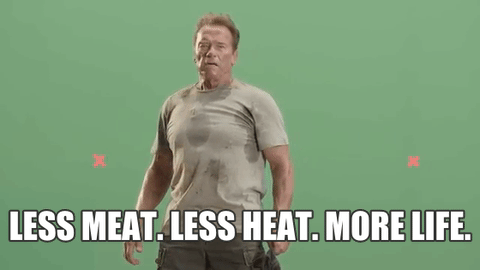 As NPR notes, recent data shows that Chinese citizens now eat more pork per capita than Americans, and the country is also responsible for almost half of global pork consumption and production. As one of 188 countries to pledge to reduce greenhouse gas emissions at the UN Climate Change Conference in Paris last year, the Chinese government will now try to change its agriculture production to curtail its currently massive footprint.
Schwarzenegger, who was also in attendance at the conference in 2015, has encouraged people to go vegetarian just a few days a week, noting that a plea for full-time vegetarianism isn't realistic for many people throughout the world.
"People will buy in to stop eating meat one or two days a week—you have to start slowly," he told BBC last December. "It's a very big challenge but it doesn't mean it shouldn't be done." 
Despite big stars voicing their support for a shift away from meat, experts aren't certain the campaign will work in China. To begin with, it's difficult to actually enforce a reduction on meat consumption at a nationwide level.
"The guidelines are merely suggestions and basically unenforceable," Jeremy Haft, the author of Unmade in China: The Hidden Truth about China's Economic Miracle, told NPR. "All indicators point to the continued steep growth in China's demand for meat."
[via NPR]