For the first time in history, Americans are spending more money going out to eat at restaurants and ordering takeout than buying actual groceries, Quartz reported earlier this week, citing recent US census data. For the country's millennials—18 to 34-years olds who will likely skip breakfast, order lunch, and check out a new restaurant for dinner all in the same day—this news is hardly shocking. But 2016, more than any other year, shows a major shift in the way America eats as a whole, with the country's long-standing dependence on grocery stores finally starting to wane considerably.
According to Quartz, there have been warning signs over the years. Grocery prices were stagnant in 2015—with the cost of meat and dairy plummeting in order for markets to stay competitive with value stores—and since the 1970s Americans have been going out to eat with ever-increasing frequency. From 1970 to 2012, the share of American household food expenditure spent on meals away from home shot up from 25.9 percent to 43 percent.
Quartz attributes some of this trend to women trading traditional domestic roles for the professional workplace, but a larger cultural shift could be taking place as well. According to the Daily Intelligencer, these numbers also have to do with "cities, sex, and generation." As workers have left farms and factories to find jobs in more urban setting, the packed lunch has all but disappeared in favor of corporate cafeterias. Chain restaurants have also thrived on serving homemade-style lunches to workers willing to dole out the cash.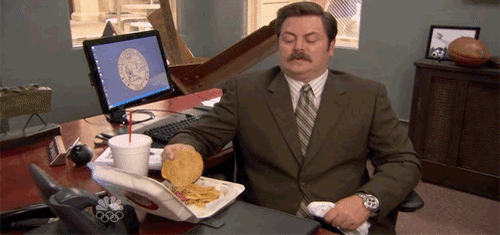 While the growing popularity of meal kit delivery services may get Americans back in the kitchen, for now, it seems American are more interested in having someone else do the cooking. Still, in an interview with Questlove recently, Anthony Bourdain offered his theory on why the restaurant business is booming, tying the trend to Instagram foodie culture.
"I don't know who's eating at Le Bernardin these days. In my day, you would be spending that disposable income on cocaine or concerts," Bourdain told the drummer. "Now they're spending it on dinner. That's a big change, and it's your fault, that's what I'm saying."
[via New York magazine, Quartz]