Earlier this month, after spending the last six years in prison, the rapper Tru Life unveiled what could be the first Rosé-flavored cereal brand, "Rosénios." In May, fresh of his deal with Belaire Luxe, DJ Khaled could be seen dousing his morning fruit salad with a cascade of champagne. The novelty of pairing pink, bubbly alcohol with various foodstuffs never ceases to amaze the public, and now it appears hundreds of New Yorkers have put their names down to try a new rosé-flavored candy. 
Sugarfina, the "luxury candy boutique" known for sugary bento boxes stuffed with cocktail-flavored gummy bears, is expected to debut its new Rosé-infused gummy bears by the end of month. And according to DNAInfo, the store's newest location on the Upper East Side of Manhattan already has a list of more than 400 people waiting for a chance to try the confectioner's newest creation.​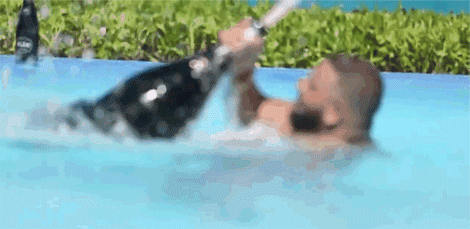 The new gummies will be made with Whispering Angel Rosé—last summer's most popular rosé in the Hamptons, according to the Observer—and available in both bear and rose shapes.
Sugarfina, which prides itself on being a classier alternative to your average bag-and-weigh candy store, sells the treats by the "cube." A small cube of champagne gummies weighs about 3.9 ounces and costs $8.50, or roughly $34 per pound. The rosé gummies will sell for $8.50 a cube beginning June 30th, when they debut nationally. Those interested in joining the waitlist can email roseallday@sugarfina.com. 
If pink wines and exorbitantly long wait lists aren't your thing, Sugarfina also features Dom Pérignon​, pale ale, and single malt scotch-flavored gummies. Your new favorite liquor store may just be this candy shop. 
[via DNAInfo]