Since launching his rap career in 2006, Rick Ross has existed as something of an enigma inside the music industry. On the surface, he's one of the most successful recording artists of the last 10 years, founding Maybach Music Group and moving millions of albums by growling emphatically about drugs, money, and fame. In a past life, as William Leonard Roberts II, he worked as a correctional officer at a prison in South Florida. Today, he is a man who can have his ankle bracelet go off in the White House one week, and be the victim of an extortion plot by the Gangster Disciples the next.
But despite Ross' many masks, the rapper was perhaps in his true element Tuesday night at Extra Butter, a sneaker and clothing boutique on the Lower East Side of Manhattan. Dressed in a blue, tortoise-patterned sweater, and draped in an entanglement of gold, ruby-studded chains, Ross bounced to a selection of his own songs as waiters whisked trays of chicken wings and sparkling rosé through the crowd.
As recognizable as Ross' signature baritone has become over the years—and as hard as he's pushed his brand of "black bottle" rosé Luc Belaire—his identity has become increasingly enmeshed with Wingstop, the restaurant chain headquartered in Dallas, Texas. The rapper owns dozens of locations throughout the country and has steadily become the company's unofficial mascot. While rappers are often quick to enter the world of luxury vodka and tequila, few are as eager to try their hand at the casual fast-food game—something Ross is hoping to change.
"I had a FaceTime with Puff Daddy, with Diddy, this morning, and we spoke about Wingstop," Ross told First We Feast on Tuesday, pausing periodically to sip rosé out of a large, Styrofoam Wingstop cup. "He's most definitely interested, and I told him I personally want to make that happen."
"I think what I'm doing with Wingstop is really groundbreaking," he adds. "I expect, and I want to see, other artists getting involved. Wingstop has had those conversations."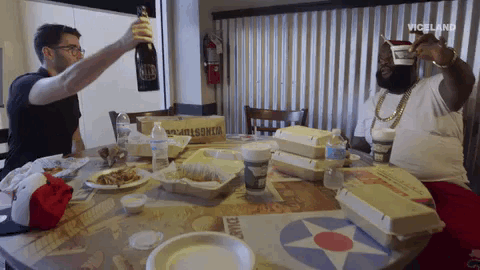 Whether or not those conversations turn Wingstop into a hip-hop powerhouse remains to be seen. While aviation-themed chicken joints might feel like a tough sell to a figure like Diddy—who's already pulling in millions from his vodka brand, Ciroc, each year—the growing company may represent an attractive investment moving forward. In 2015, First We Feast estimated that Ross could be collecting upwards of $1 million annually from his Wingstop outposts, and the artist's own reputation as a rap-game gourmand has long been solidified. In the days following the release of Drake's latest album, VIEWS, much of the conversation centered around the rapper's overly earnest shout-out to Cheesecake Factory. ("Why you gotta fight with me at Cheesecake, you know I love to go there," he croons on the track "Childs Play".) But Ross has perhaps made more food references than any other rapper to date, name-dropping restaurant chains like Chick-fil-A, Red Lobster, and Popeyes in his songs.  
"I haven't been [to Cheesecake Factory] in years. It was cool when I went years ago. That hasn't been my flow in a long time," Ross said. "But if that's what you do, that's what you do. If you like cheesecake, that's what you do, you know what I'm saying? You can't eat that seven days a week though, so you just make sure you stop by Wingstop and keep it balanced. It'll be a beautiful thing."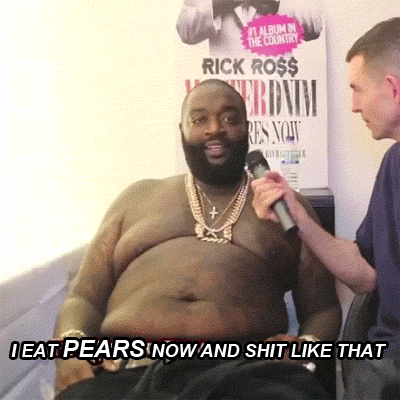 Perhaps Ross' identity has not been enigmatic after all, but simply "balanced"—part rapper, part restaurant-owner, part hype-man, part health-food nut. The list goes on. In 2014, a clip of Ross went viral after he revealed his love for pears in an interview, crediting the fruit with his recent weight loss. Despite the decadent lifestyle he continues to lead—bubbling cups of rosé, small mountains of lemon pepper wings—today, he says not much has changed. 
"It's still all about the pears," he explained. "The rest of it is me enjoying whatever it is I love. And I love wings."