Generally, receiving the check at the end of a meal is the worst part of going out to eat. Reaching for that wallet can hurt, but sometimes servers feel the need to add insult to injury.
When diners at Peter Chang—a restaurant in Arlington, Virginia run by the eponymous, award-winning Sichuan chef—received their bill after dinner Saturday night, the party was shocked to discover a barrage of insults added to the bottom of their receipt, including "im a plad asshole" and "i have a small penis." Three of the four diners were, in fact, wearing plaid (we're assuming "plaid" was what the waitress was going for there….), according to the Washington Post, though the penis comment feels a tad unsubstantiated.
The shade thrown by the waitress all began with a rice bowl. The table was served a family-style bowl, and the guests wondered why the rice wasn't served individually. The server explained that family-style bowls are common practice in China, though one of the patrons lived in Beijing for several years and was perplexed by the presentation.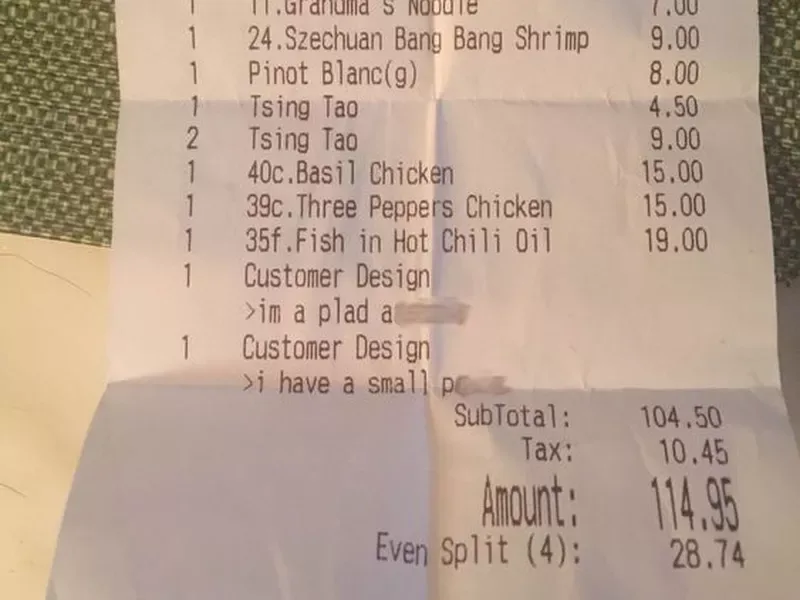 Photo via Washington Post
Things came to a head, however, when the guests asked to have the bill split four ways. The waitress shot the guests some major shade this time, sarcastically replying, "That's totally how they do it in China."
"I obviously had no idea what that meant, because I'm just a white guy from Arlington," Matt, one of the diners, who chose to be quoted only by his first name, told the Post. "But my friend [is] from China, he told us after she left, 'In China, one person pays for it. That's not at all the way things are done in China, so she's being sarcastic.' Then we saw the receipt."
The party complained to the manager, Qian Cheng, who later told the Post that this kind of behavior is far from an isolated incident at the restaurant. But rather than firing the employees, Cheng decided to simply cut back their hours.
Matt and his friends were unconvinced that the restaurant's apology was truly sincere.
"I would say they seemed slightly embarrassed," Matt said. The servers had intended to delete the comments, but apparently forgot. "It wasn't like, 'We're so sorry. This is unprofessional."
Generally, it's patrons who leave nasty notes for waiters on their checks. Last year, a man in California wrote that tips were for "U.S. citizens only." Maybe waiters have finally reached the end of their ropes.
[via the Washington Post]