May is shaping up to be a big month for Krispy Kreme.
Last week, Nike unveiled the "Ky-Rispy Kreme," a limited edition sneaker from the Cleveland Cavalier's Kyrie Irving, inspired by the company's signature glazed doughnuts. And now—in decidedly bigger news—it was announced on Monday that the pastry chain is about to be acquired by JAB Holding for a reported $1.35 billion. The deal equates to roughly $21 a share (25% more than the chain's closing price on Friday) and will make Krispy Kreme a private company.
As the New York Times notes, JAB Holding, an investment conglomerate owned by a family of German billionaires, already has a stable of "coffee-oriented businesses." Late last year, the company bought Keurig Green Mountain for a whopping $13.9 billion, and also owns chains like Peet's Coffee & Tea, Stumptown Coffee Roasters, and Caribou Coffee.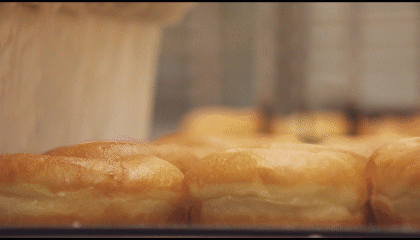 "We are thrilled to have such an iconic brand as Krispy Kreme joining the JAB portfolio," Peter Harf, a senior partner at JAB, said in a statement. "This is yet another example of our commitment to investing in extraordinary brands with significant growth prospects."
In the past, JAB has also shown interest in the doughnut's savory cousin, the bagel. In 2014, the company bought the Einstein Noah Restaurant Group, which owns restaurants like Einstein Brothers Bagels, Noah's New York Bagels, and Manhattan Bagel. According to CNN Money, there's a chance JAB could be interested in acquiring Dunkin' Brands (the parent company of Dunkin' Donuts and Baskin-Robbins) next.
This could be the beginning of a full-on coffee monopoly. 
[via New York Times, CNN Money]