The media's current take on Cleveland goes something like this: The Rust Belt city, after suffering through decades of post-industrial decline and misery, is enjoying a glorious rebirth, making it identifiable with more than just LeBron James and well-done Ikea jokes. While that's not entirely wrong, it misses the bigger attitude found among the natives in "New Cleveland": Let's f*cking create. Greenhouse Tavern chef Jonathon Sawyer seconds that sense of hope about Cleveland's future, despite its historical hurdles: "Yes, the Cuyahoga River caught on fire—but we got over it," Sawyer says. "And you should, too."
In terms of people putting on for their cities, Sawyer is at Otto Graham levels as a surrogate for Cleveland. After moving home following a successful career in NYC kitchens, Sawyer started his own mini-empire. His efforts at Greenhouse Tavern, Noodlecat, and Trentina not only snagged him a James Beard Award, but they also helped draw food media's attention back to the Midwest.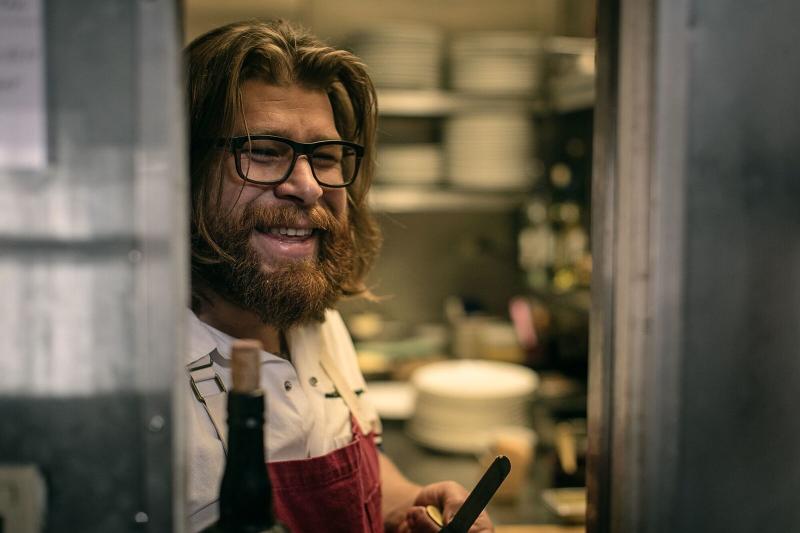 Talk to Sawyer about his hometown and you'll immediately pick up on his excitement, whether he's recommending Ohio City breweries, or restaurants in the Chagrin Valley. But he's also a fountain of knowledge when it comes to activities outside of the kitchen. "There are few things better than taking my scooter along the Emerald Necklace with the river right behind me," Sawyer says. "It reminds me why I'm living, you know?" 
To get a pulse on the city, we turned to Sawyer for tips on how to properly pre-game for a Cavs game, and where to find the best Indian food. Here are Jonathon Sawyer's 10 commandments to eating and drinking in Cleveland.