When Guy Fieri was in middle school, he started his very first business: "The Awesome Pretzel Cart." The cart specialized in the production of awesome pretzels, and from there the bleach-blonde bad boy has gone on to star in a number of awesome television shows (Guy's Big Bite, Guy Off the Hook, Diners, Drive-Ins and Dives), and open a plethora of awesome restaurants (Guy's Burger Joint, Guy's American Kitchen and Bar, Guy Fieri's Chophouse).
While cooking up some pizzas with writer Michael Mooney​, Fieri charts his rise from lowly pretzel cart purveyor to culinary mega star in a new profile for the aptly titled Success magazine.
Here are the five biggest takeaways we found in the article:
Fieri is getting tired of fame, and wants run away to Mexico. 

"I'm gonna open a small restaurant on the beach in Mexico," he told

Success

. "We're only gonna have a few tables and we're only gonna cook what's fresh that day. We're gonna get back to the basics....

Real food for real people."
Fieri knows exactly why you're making fun of him (well, "probably"), but he doesn't care.​ 

"

If I probably didn't have tattoos, or if I probably didn't bleach my hair, or if I probably didn't wear blue jeans and a T-shirt to fancy things, if I didn't do things that make me look like someone who's whacked out of their mind, it'd probably be different," he said. "But then again, that's how I wanna dress. And I like my tattoos. And I like my hair cut the way it is."

Still, all those cheap shots from Anthony Bourdain have taken their toll over the years.​ 

"I'm like anybody else," he explains. "You get enough, you can get beat up. You can get hurt. You can get frustrated. You can get demoralized."

It's pronounced Fee-EDDY, people.​ 

When Fieri got a call back for

The Next Food Network Star

in 2006, he initially thought it was a prank call from one of his friends. "When she paused and apologized for mangling my last name, I thought maybe this is real," he explains.

Fieri and his friends all have amazing nicknames.​ 

"He has the same friends he had before he was famous,"

Mooney writes in the article. "They have nicknames like 'Mustard' and 'Dirty' and 'Possum' and 'The Spaniard.' Fieri's friends mostly call him 'Guido.'"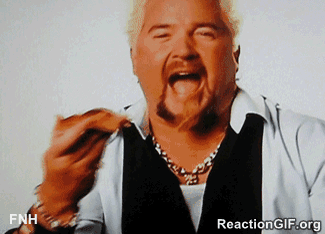 While the profile goes pretty deep, Fieri still manages to evade any questioning about his leaked mixtape.
[via Success]