Few men possess more raw, animal magnetism than the bleach-blonde Mayor of Flavortown, Guy Fieri, and thin-lipped ex-presidential candidate Ted Cruz. Unfortunately, Flavortown and Capitol Hill are worlds apart, and rarely do their paths intersect. But for those of us who lie awake at night wondering what it would look like if these two Adonises ever wound up in the throes of wild, passionate love-making, we're finally in luck: allow us to introduce, "Frosted Tips."​​
The brainchild of two evil geniuses— Lana Adler and Talia Lavin​—the erotic fan fiction was performed for the first time last Friday at Carmine Street Comics in New York City. The disturbingly vivid love tale is filled with lots of quivering thrusting, gushing, and lathering of Fieri's famous Donkey Sauce.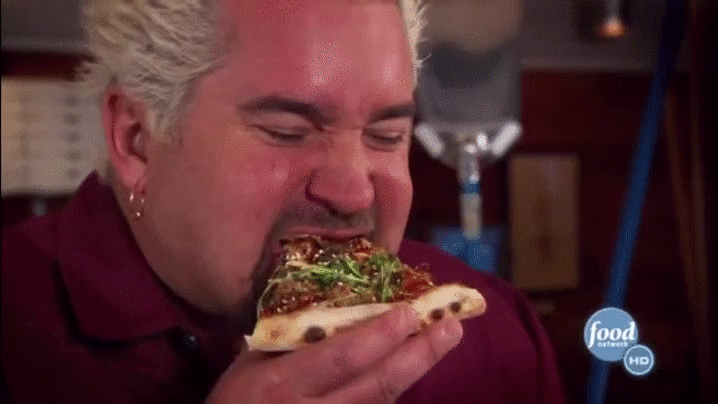 The story begins with Fieri greeting Cruz at his Times Square restaurant ("his testicles as pendulous and wrinkled as his sour cream-laden triple loaded baked potatoes"), and the madness slowly starts to unfurl from there. 
"'Hi, I'm Guy Fierri,' he said, rolling the consonant sensually and not at all obnoxiously over his wet, narrow sea worm of a tongue. 'Welcome to Flavor Town, my man.' Cruz licked his thin, disquieting lips, attempting to dislodge the white ooze that had congealed there in his panic. Little did he know, that was not the only white ooze he would be dislodging on this fateful night."
From there, the couple exits the restaurant to find a more intimate and romantic setting: the dumpster.
"They knew it had to happen in the dumpster, amidst the ruins Fieri had created. Amidst the soft filth-beds of over-salted linguine, the dried rivers of donkey and bluesabbi sauce covering their thrusting bodies, like the fluid of the womb. And thrust they did, their quivering flesh truly a sight of horrors that would melt the face of any onlooker with its pasty glare."
Finally, Fieri and Cruz reach a momentous, earth-shaking orgasm. 
"Then, after a moment of sopping, squelching grunts, they knew the moment had come. There was no turning back now. 'WE ARE THE KINGS OF FLAVOR TOWN!', they screamed, in simultaneous orgasm."
To be fair, Adler introduced the story with a warning we all should have heeded. "May god have mercy on our souls," she wrote. 
To read "Frosted Tips" in its terrifying entirety, go here.
[via Death and Taxes]