Beyoncé's army of devoted fans has devised its own method of vigilante justice. First, after a rumor spread that Rachel Roy was "Becky with the Good Hair"—Jay Z's alleged mistress from the singer's recent Lemonade album—the BeyHive mistakenly swarmed on celebrity chef Rachael Ray's Instagram account. Now, following an ill-advised sign at one of its restaurants, Chick-fil-A is receiving similarly severe treatment.
Dozens of posts from the company's Instagram page were flooded with bee and lemon emojis earlier this week after a location in Atlanta claimed to have "Lemonade Fresher Than Beyoncé's."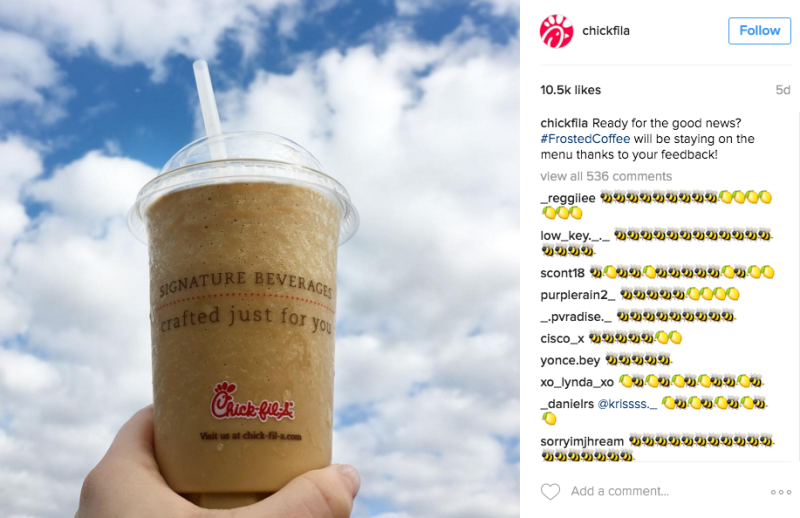 Another outpost went as far as to boast that their lemonade was "better" than Beyoncé's.
New Yorkers have been picketing Chick-fil-A for weeks now (admittedly for slightly larger issues with the company….), but maybe a social-media maelstrom is a means of protest worth exploring.
Chick-fil-A's blunder is just another example of restaurant chains attempting awkwardly to capitalize on trends in pop-culture. In February, following Beyoncé's now-famous Red Lobster line on "Formation," the chain started selling "Cheddar Bey Biscuits." Still, the release of the song caused sales at Red Lobster to shoot up by 33 percent, and in the immediate wake of Lemonade, the lemon emoji was used in over 2 million tweets. 
[via Refinery29]