In an expletive-laced, marijuana-fueled cooking session, the culinary world's newest odd couple—legendary chef Mario Batali and rapper Action Bronson—threw down in the kitchen recently, tossing massive octopus tentacles in a vat of steaming bucatini.
Shot for Billboard at Batali's new restaurant, La Sirena, on 9th Avenue in Manhattan, the video and accompanying Q&A portray the pair as polar opposites at times. Batali, who hosted "Molto Mario" on the Food Network for almost a decade, represents the old-school, while Bronson and his burgeoning Viceland program, "Fuck, That Delicious," represents the new.
But as the day progresses—with Batali urging Bronson to blow clouds of weed smoke at their food, and later sharing his thoughts on the music of Kanye West—the partnership begins to feel less and less like an anomaly. Batali is a nut case (in the best way), and Bronson is a food nut, so somehow they kind of meet in the middle.
"It's pretty salty, but I'm gonna add some more," Batali says while he's seasoning the pasta water. Bronson is eyeing the simmering pot of bucatini over the chef's shoulder, blunt in hand. "Just cause I'm a motherfucker."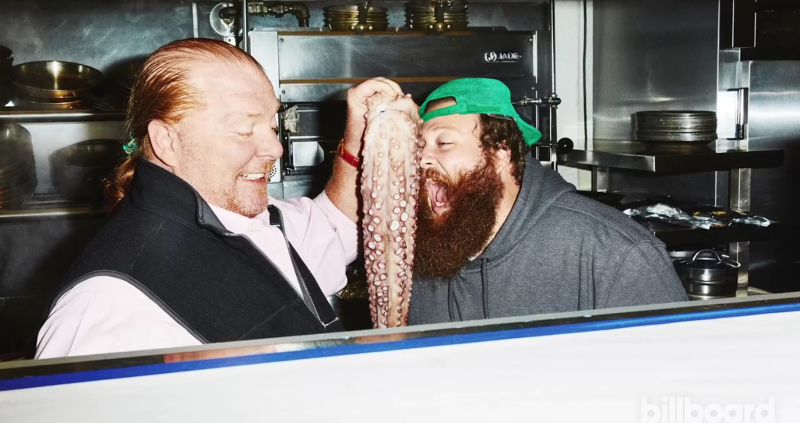 Photo: Aaron Richter
Though Bronson jokes that the duo met on JDate, it was Batali's children who first introduced the chef to the rapper's music. Bronson, who was raised in Queens and worked as a cook before pursuing a career in hip-hop, grew up listening to Wu-Tang Clan and watching Batali on TV—experiences he says shaped his rise as a hip-hop gourmand.
Eventually, after meeting through the "Fuck, That's Delicious" crew, Batali invited Bronson and his mother over for dinner.
"It was just a magnificent scene," Bronson said in the interview. "[B]eing there with my hero, someone I looked up to throughout my life."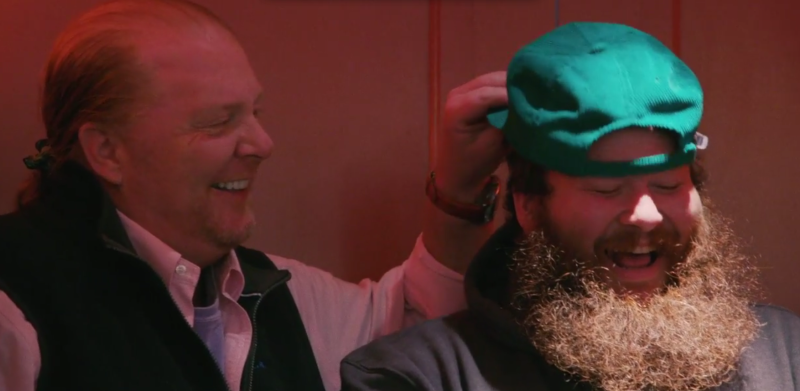 "[Mario] is the reason I started cooking," he explained during an episode of "Fuck, That's Delicious" last year. "He is the reason why I went to culinary school."
Bronson shares that he prefers to listen salsa music while cooking ("It kind of puts you in that rhythm, he says."), but Batali's taste is perhaps more surprising: "When it comes to hip-hop there's only Bronson and Kanye," he says. "Kanye doesn't love or really care about us, though, so I don't listen to him as much."
While one might expect Bronson to be the most animated in the kitchen, ultimately it's Batali who steals the show.
"As we say in my world," Batali toasts, "cin-cin, motherfuckers."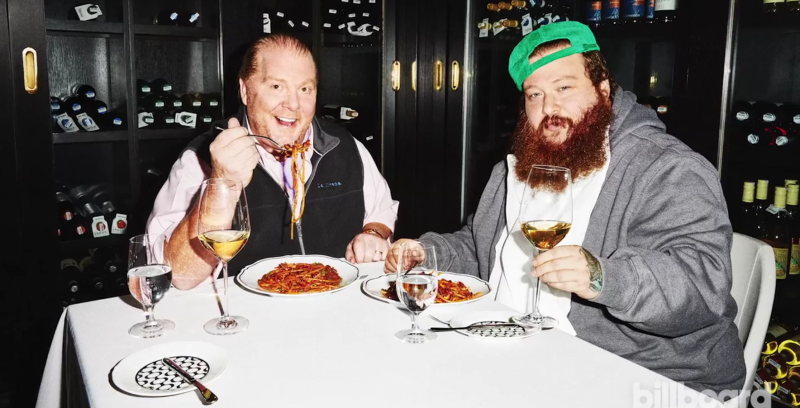 Photo: Aaron Richter
[via Billboard]