On the weekend in February when Beyoncé released "Formation"—a stark, take-no-prisoners exploration of black identity—Red Lobster posted a 33% increase in sales, thanks to the instantly quotable lyric, "When he f**k me good / I take his ass to Red Lobster." The seafood chain was mentioned on Twitter nearly 42,000 times in a single hour, according to a spokesperson, and it trended for the first time in its history.
This past weekend, Queen Bey followed up with her tour-de-force "visual album," Lemonade, and produced another inadvertent social-media star in the process: the lemon emoji.
Prior to the broadcast of Beyoncé's Saturday night HBO special, the lemon was languishing in emoji obscurity. Unlike other pixilated produce like the ever-controversial eggplant and the butt-like peach, the  emoji really didn't have much use unless you were tweeting about a crappy used car, or DMing someone a gremolata​ recipe. But after #Lemonade took over social-media feeds in the hours and days following the release, the lemon emoji became an instant symbol of the zeitgeist.
But was the surge real, or just perceived by those of us with too many Destiny's Child diehards in our lives? To understand the full power of Beyoncé's emoji influence, First We Feast asked Twitter HQ to pull some data from the past week on the lemon emoji and the bee emoji, which has long been associated with megafans known collectively as the "Beyhive." Here's what we learned:
There have been over 2 million tweets including at least one lemon emoji in April, 62% of which have been tweeted since Saturday, 4/23. 
There have been over 1.8 million tweets including at least one bee emoji on Twitter in April.
In the 24 hours following the #LEMONADE HBO special, the average number of lemon emojis per tweet was three and the average number of bee emojis per tweet was two.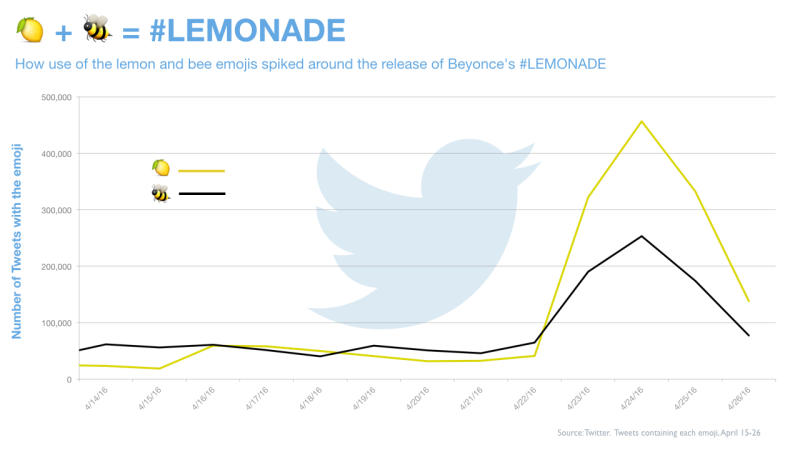 The drastic spike stained timeline's yellow, becoming both an expression of unbridled excitement for the album, as well as a weapon of protest against haters. As the witch-hunt continues to identify the mysterious "Becky with the good hair," a homewrecker referenced on "Sorry," fans have hurled a barrage of lemon emojis into the mentions of stars like Rita Ora, Rachel Roy, and—most bizarrely—Rachael Ray. (Emoji-bombing your enemies' social-media accounts appears to be the digital age equivalent of egging their house.)
For many, the sudden explosion was a reminder that the long-forsaken lemon emoji even existed. For others, it was a moment of vindication as they witnessed a Unicode underdog soar into the spotlight.
The shrapnel from Beyoncé momentous project has hit many targets, from over-sensitive white men, to husband Jay Z, now banished to the dog house of public opinion until further notice. But for the lemon emoji, it's a special time indeed. The only question is how long this newfound popularity will last.