Very few foods can cause shouting matches the way pizza can. Despite its origins as a poor-man's snack in Naples, pizza has evolved from humble snack to pop-culture icon, with everyone from The Fat Jew to Miley Cyrus scrambling to align themselves with its glory. And, over time, an entire taxonomy of regional styles—from bar pizza in Connecticut, to white pies in Berkeley, CA—has developed, and pizza writers all over the country have spilled endless ink on the mottled char of a freshly fired Neapolitan crust.
Not only do we have variety, but we've also seen a rise in quality and craftsmanship, thanks to a new generation of pizzaiolos who began importing wood-fire brick ovens from Italy. These revered heating vessels became the centerpieces at many serious pizzerias, reminding us that pizza-making is a tradition to be respected.
When it comes to pizza, there is so much to learn, despite its basic ingredients. Which leads us to a larger question: What is the domestic and international scope of pizza, and which places best define its various styles? More than just taste or selecting "the best," how do we consider the full experience of going to a pizzeria—and which deserve a place on your bucket list?
To tackle these questions comprehensively would be a life-long task. So to help you at least get a start, we hit up a crew of pizza geeks, editors, and bloggers to show us a slice of the pie, so to speak. Here is our esteemed panel:
​Adam Kuban, proprietor of Margot's Pizza pop-up. You may also know him as the founder of the now-defunct pizza blog Slice, or as one of FWF's 20 Greatest Food Bloggers of All Time.
Theresa Nemetz, founder of Milwaukee Food & City Tours
Brooks Jones, a.k.a. Pizza Commander, founder of the pizza blog ME, MYSELF & PIE; Jones is currently in the production stage of a feature-length documentary about pizza
Jamie Feldmar, senior editor at Tasting Table
Scott Wiener, founder of Scott's Pizza Tours, author of Viva La Pizza! The Art of the Pizza Box
Joseph Garreffa, tour guide at Scott's Pizza Tours
Colin M. Caplan, owner and tour guide of Taste of New Haven; currently writing a book about the history of New Haven pizza
Anthony Falco, pizzaiolo at Roberta's in Bushwick
Jason Feirman, founder of idreamofpizza.com
Paulie "Gee" Giannone, owner of Paulie Gee's in Greenpoint
Jonathan Porter, runs Chicago Pizza Tours
Nick Schonberger, founding editor at First We Feast
Tony Gemignani, 11-time World Pizza champion; owner of Tony's Pizza Napoletana in San Francisco; author of The Pizza Bible
Here, these pizza pros and enthusiasts share the places they think you need to go before you die. Let the pizza pilgrimage commence.
Colony Grill

Where: Stamford, CT
Website: colonygrill.com
Kuban says: "Chances are you've had New York–style pizza, deep dish, and/or Neapolitan. But have you tried bar pizza? Yes, I probably have a vested interest in hipping you to this style of pizza, but there is seriously a reason why I'm obsessed with making it—and I have the Colony Grill in Stamford, CT to thank (or maybe blame?) for inspiring my mania. Colony pizzas are ultra-thin, crisp, and abundantly cheesy. But the thing that really sets these pies apart is their lattice of pock-marked cheese. It does more than give Colony's pizzas a unique look: Those little craters all take on a chewy-crisp texture which contrasts with the gooeyness of the rest of the cheese. The pies so thin that you can practically inhale a whole pizza yourself, but it's better to bring friends, of course, and split a number of different pizzas. If you're a meat eater, you HAVE to try a pizza with sausage, which comes from a local sausage-maker across the street. And you can't leave there without ordering a pie drizzled with hot oil, Colony's signature condiment (hot-oil pizzas are marked with a single stinger pepper in the middle). To eat at Colony is to understand immediately what "bar pizza" is all about. Be careful, though, because you may just get hooked. I did." (Photo: Liz Barclay)
Zaffiro's Pizzeria

Where: Milwaukee, WI
Website: zaffirospizza.com
Nemetz says: "Most people have no reference point when it comes to defining Milwaukee-style pizza. Our signature pizzas evolved from the Sicilian and Italian immigrants of the late-1800s that came to the area in search of a better life. History began in 1954 for Zaffiro's when two nice Italian boys, John and Liberio "Bobby" Zaffiro, created a pizza unlike anyone had ever seen or tasted before in Milwaukee's "Little Italy." Zaffiro's Pizzeria takes classic Midwest-style pizza to the extreme. Their pizza has a curiously thin crust—perhaps a mere two credit cards thick. To yield this perfection, they begin by parbaking their dough, removing it from the oven, flipping it over to dress the pizza, and then returning it to the oven just long enough to finish off the toppings. It is topped with sliced cheese and then ladled with secret recipe sauce to create a signature Milwaukee-style pizza that has consistently been named a favorite among locals and food writers alike." (Photo courtesy Theresa Nemetz)
---
The Cheese Board Collective

Where: Berkeley, CA
Website: cheeseboardcollective.coop
Jones says: "When I first stepped foot into Berkeley's Cheeseboard Collective—located across the street from Chez Panisse—it was like entering another dimension. The place, after all, is a pizza cooperative, meaning that it's owned and operated by the employees themselves. Engineered with an efficiency that would make Henry Ford envious, it's the epitome of Bay Area cool. The pizza itself is a thing to behold too. Cheeseboard has a rotating selection of vegetarian white pies, using fresh local cheeses and in-season produce for their toppings. Whether it's topped with favorites like cilantro aioli and sliced roma tomatoes, or more outlandish picks like corn and key lime, the flavor is always balanced, with each ingredient complementing the other without stealing the show. What really stands out is their unique approach to churning out pies. On any given day, there is only one style of pizza available, all of which are prepared the night before and stowed on multiple-tiered towers. While this requires omitting tomato sauce from the equation, it allows the co-op to order top-quality ingredients at a low cost. Try to snag a seat inside near the live jazz trio, or, better yet, join the ranks of UC Berkeley students on the grassy median out front." (Photo: Cheeseboard Collective )
Oven Grinder
Where: Chicago, IL
Website: chicagopizzaandovengrinder.com
Feldmar says: "People like to make fun of Chicago deep dish by calling it things like "casserole" and "not real pizza," but those people are idiots. The people who don't like deep dish will almost certainly be horrified by the pizza pot pie at this old-school Lincoln Park brownstone, which is, as its name implies, an individually portioned, pizza-flavored pot pie. What the hell does that mean? It means that a volcanic blob of tomato sauce, sausage nubs, and doorknob-sized mushrooms float around in a puffy dough shell, glued in place with a thick layer of molten cheese. The pie is deposited tableside in the pan in which it was baked, and ceremonially flipped over so the cheese is on top. It's totally excessive, and totally Chicago—gross and glorious all at once." (Photo: Oven Grinder)
---
Di Fara
Where: Midwood, NY
Website: difara.com
Wiener says: "Forget the myths and legends about this place—most of them aren't true. Dom doesn't use a brick oven (it's a shoddy Bakers Pride deck oven); he doesn't ferment his dough for very long (usually same day); he uses a standard olive oil to finish his pizzas; he doesn't grow his basil in the window; he doesn't use mozzarella di bufala on his regular pie (only the square); he isn't 90 years old (he just turned 78 last month); and he changes his tomatoes all the time. Pizzeria owners will tell you their primary goal is consistency, yet Dom makes one of the least consistent pizzas in New York. If you follow the advice of most master pizzaioli, Dominick Demarco does everything wrong. And that's exactly why this is a Bucket List-worthy pizzeria. Every pizza truly is a unique piece. Don't go expecting perfection—although most customers do walk away in a blissful state. Expect an experience so special it could only come from a such a bizarre location in the middle of Hassidic Midwood, Brooklyn. This is a place that was opened in 1965 by a guy who never retired. It's a place that truly defies logic. It's a place that can't last forever." (Photo: Chris Schonberger)
Amico's Pizza

Where: Livonia, MI
Website: amicos-pizza.com
Garreffa says: "This is the mom-and-pop shop that I grew up in and worked at from the age of 12. It was here that Grande mozzarella was cut and shredded by yours truly, pepperoni sticks were cut by hand, and it was the place that supplied locals with a very distinctly fashioned pizza. Among some of the other popular pizzas, including the BLT and the Breakfast, stands the Square. In oiled rectangle pans, fresh balls of homemade dough would rest and then be gently stretched to the corners. Here, sauce comes first and cheese second; however, it still melts down to the bottom of the pan, creating a perfectly charred, crispy, and chewy all-cheese crust, baked in a deck oven by owners Norm, Larry, and Eric. I have nothing but absolute adoration for this work of art." (Photo: Amico's)
---
Sally's Apizza

Where: New Haven, CT
Website: sallysapizza.com
Caplan says: "The mecca of pizza sits in the small New England city of New Haven, known for Yale, Winchester rifles, and the hamburger sandwich. The southern Italian immigrants (largely from the Amalfi coast) who sailed over with their pizza recipes, perfected them in this city. Called apizza, and pronounced "ah-beets"—which is a Campanian dialect—New Haven's pizza does not get finer than Sally's Apizza on Wooster Street. Started by Salvatore Consiglio and his mom and brother in 1938, Sally's cooks up a coal-fired, brick-oven pies that jumpstart your taste buds to dance and make your mind wonder how they bake such deliciousness. The Consiglio family, who still run the joint and are cousins with the family that runs the famous Frank Pepe Pizzeria Napoletana one block away, will tell you the quality comes from the love. Sally's thin-crust pies are crispy, chewy, and spongy, and their tomato sauce is simple—savory and tangy, salty and pasty. For toppings, start with whole-milk mozzarella and choose the usual range of meats and veggies. But it's their specialty pizzas that are life-changing. The Frank Pepe's original White Clam Pie delivers the briny flavor of clams with oregano, garlic, and olive oil. Their own Sliced Potato pie offers razor thin slices of potato with caramelized onions and rosemary. They have a Summer Special pie of broccoli rabe, garlic, and mozzarella cheese. The lines out the door, the wood paneling and home-style feeling are part of the charm and history of Sally's. Its many fans have included Frank Sinatra, John F. Kennedy, Bill and Hillary Clinton, Gary Trudeau, and so many others. Open from 5-10pm Wed-Sun, Sally's will make you thankful that you chose a pilgrimage to the center of the pizza world." (Photo courtesy Colin M. Caplan)
Salerno's Café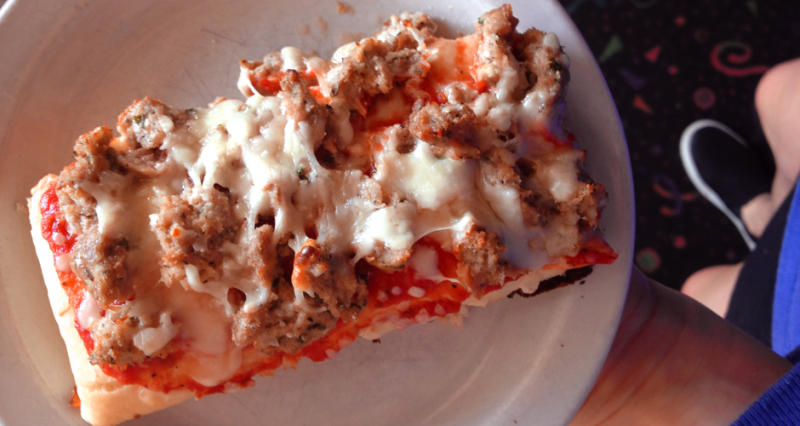 Where: Old Forge, PA
Website: none
Schonberger says: "The small borough of Old Forge, PA sits five miles southwest of downtown Scranton. Rooted in coal mining and textile production, the area became known for pizza in the '60s and proclaims itself "The Pizza Capital of the World," thanks to a high proportion of pizza "cafes" (not parlors) and a distinct local style. Salerno's Café, located on a residential stretch of Moosic Road, serves a fine representative "cut" (no slices here) of Old Forge's rectangular pizza in its dark front bar. The crust has a light crunch thanks to baking sheet preparation—think ubiquitous supermarket staple Ellio's, but slightly more refined. An onion-based sauce and cheese mix of primarily mozzarella and provolone form the most basic toppings; add-ons get as advanced as shrimp but mostly stick to the classics (anchovies, hot sausage, pepperoni, etc). These pizzas won't settle best-of national debates. However, as representative of regional eccentricity, each cut provides an unequaled American moment—a reminder of pizza's capacity to kindle community pride—and an unparalleled slice of history." (Photo courtesy Liz Barclay)
---
Juliana's

Where: Brooklyn, NY
Website: julianaspizza.com
Falco says: "In 1992, I traveled across the Brooklyn Bridge for the first time to eat pizza. I was already pizza obsessed, but what I was headed for in Brooklyn was about to blow my mind. Back then, it was called Patsy's. The early 90s were a dark period for NYC pizza. The 80s had seen a boom in Ray's and Ray imitators. Their hallmarks were large pies, a blanket of mozzarella, and sweet sauce. Very few of the first wave New York City coal-fired style pizzerias survived or thrived. Lombardi's was first in New York City, but they had closed in 1984 and wouldn't reopen until 1994 in a new location. Both Patsy's and Totonno's were opened by original Lombardi's pizza-makers, but the Patsy's under the Brooklyn Bridge signaled a rebirth. It was started by Patsy and Carol Grimaldi in 1991 to recreate the original New York City coal-fired pizza style. I distinctly remember the buzz that surrounded it. It was an 'it' restaurant at the time, with celebrities and artists dutifully waiting their turn for pies. This was a time when the pizza craze was all about slice joints. But this was a throw-back, and the Grimaldis were uncompromising. Carol herself reportedly made the mozzarella fresh everyday. The pizzas—bigger than typical Neapolitans—were charred by the coal oven. They put the mozzarella down first in thin slices, then Parmigiano, then basil, and finally a simple beautiful puree of quality tomatoes. For me it was a revelation, the first great pizza I had ever had. Eventually, Patsy got sued and had to change the name to Grimaldi's. They then sold that pizzeria which now exists as an international chain. In 2012, Grimaldi's moved down the street and Patsy and Carol took over their original pizza spot, naming it Juliana's. Carol passed away in 2014, but Patsy remains at the helm: tall, imposing, with a cigar in his mouth. A pizza legend. Going to Juliana's is an essential stop in anyone's New York City pizza education. I know it was for mine." (Photo: Juliana's)
Green Door Pizza Bakery

Where: Jerusalem, Israel
Website: none
Feirman says: "Green Door Pizza Bakery is located in a non-descript alleyway in Jerusalem's Muslim Quarter. Enter through a green door (obviously), walk down a few steps, and head over to the hole in the ground—yes, a hole in the ground. In it you'll find a man named Abu Ali, eagerly awaiting to make some pizza for you. Don't mind that he'll likely have a cigarette in one hand, or that there are cats roaming around the place. The pizza contains a pre-made crust that is filled with tomatoes, cheese, and two eggs. It's like a Middle Eastern version of a breakfast pie, which is typically unheard of in the United States. To me, this place represents the universality of pizza. You can find it in every country in the world, in places where you'd least expect it. Is it the best pizza you'll have in your life? Probably not. But it is pizza with a Middle Eastern spin, featuring toppings that combine to taste like shakshuka on a crust. And it's possibly the only opportunity you'll ever have to eat pizza from a man in a hole." (Photo courtesy Jason Fierman)
---
Paulie Gee's Essential Three
We limited our participants to one pick. So why three? It's cheating, we know. But we couldn't resist Paulie Giannone's undying enthusiasm for pizza. Here are three landmark New York pies. (All photos courtesy Paulie Giannone)
Prince Street Pizza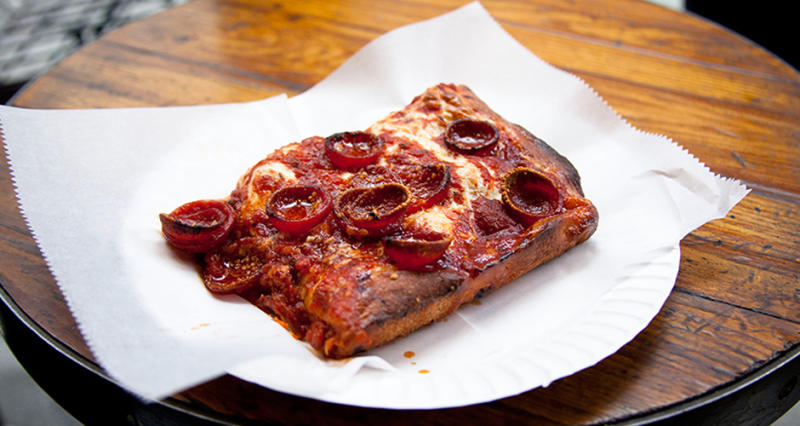 Where: Manhattan, NY
Website: N/A
Giannone says: "The Soho Square is the epitome of greatness. It is an "upside down" slice in the tradition of L&B Spumoni Gardens, with the sauce applied after the cheese and finished with a sprinkle of Romano. The crust is unusually light and airy for this style of pizza, with a crisp bottom that is arguably even better on a reheat than if served immediately after it's original bake. If you go, please tell Frankie I sent ya. I assure you he will treat you well. Wanna know why I can guarantee that? He treats everyone well."
Joe & Pat's

Where: Staten Island, NY
Website: N/A
Giannone says: "Their pizza is like unlike anything I've ever had. It is a large pie that is thin and crackery, with a sauce that has a slight sweetness to it and just the right amount of salty aged mozzarella. The pie is topped with the sauce right to the very end, in the tradition of a tavern or bar pie. When you attempt a folding of the slice it will crack in half on the outer end. An added bonus to the experience is witnessing the pies being baked in their rotating oven."
Totonno's

Where: Coney Island, NY
Website: totonnosconeyisland.com
Giannone says: "Coney Island's Totonno Pizzeria Napoletana is Brooklyn's oldest pizzeria and serves coal-oven pies. There are a number of pizzerias in New York City that serve up pizza baked in a coal oven, but for me, none have the umami that Totonno's pies have. I believe that tastiness is derived from their selection of fresh mozzarella and the Romano cheese they sprinkle on top. Additionally, their crust has an uneven landscape and a flavor that I have not experienced anywhere else. I always get a plain pie, but as of late, I have become enamored with their white pie as well, which is simply fresh mozzarella, fresh garlic, and a sprinkle of tasty Romano. Eating in Brooklyn's oldest pizzeria adds exponentially to the dining experience—the walls are plastered with photos of renowned diners who have frequented this culinary treasure over the years."
---
Vito & Nick's

Where: Chicago, IL
Website: vitoandnicks.com
Porter says: Vito & Nick's, or is it Nick & Vito's? Depends on whom you ask, but it doesn't really matter. If you have a stuffy attitude, this place ain't for you. If you want to get into a Chicago "Southside" state of mind, bring cash and head on in for the tastiest thin-crust pizza. Sausage is the most popular, but their egg and crushed pepperoni receive high praise, as well as their Italian beef and peppers. All sausage and beef are made in-house, and the cheese comes from just down the road, supplied by the Mancuso family. This is a circular pizza cut into squares, so the outer pieces remain crispy while the inner pieces are foldable. The servers are older than your grandparents, the cooks throw pizza paddles, and the walls are covered in carpet. Pair the pizza with an Old Style, and enjoy the ambiance of some real Chicagoans at a place that's been in business for nearly 100 years. (Photo courtesy Jonathan Porter)
Pizzeria Trianon

Where: Napoli, Italy
Website: pizzeriatrianon.it
Gemignani says: It was a hot, busy day in Naples, with scooters zooming by like little rockets. By this point I was already a 10-year veteran in the pizza industry, and I owed it to myself to try the real thing. I ventured to Pizzeria Trianon, one of the most popular pizzerias in Naples, which serves VPN-style pizza. The margherita was a prime example of simplicity—mozzarella, basil, olive oil, San Marzano tomato sauce, 900 degrees, and an 80-second bake. Each bite was a blissful, revelatory experience. Here I was, a pizza-maker who, at that time, thought he had tried everything and along comes this magical, straight-forward pizza that was so different from all my prior experiences. It was a defining moment in my quest for pizza satisfaction: I knew that I needed to learn this craft. (Photo: Pizzeria Trianon)
---
Pizano's

Where: Chicago, IL
Website: pizanoschicago.com
Porter says: The original location of Pizano's has a special place in the hearts of food writers and pizza enthusiasts. Opened in 1991 by Rudy Malnati Jr., Pizano's has quietly been the favorite deep dish of people savvy enough to look past the big names. The restaurant is small but worth the wait. Feel free to pre-order and sit at the bar while you wait for a table to open up. When you finally get your pie, you will be pleasantly surprised at how well-portioned their deep dish is compared to the stereotypical massive ones. The cheese is 100% whole-milk mozzarella from the neighbors to the north in Wisconsin; the sauce is a mixture of weekly-sourced plum tomatoes and fresh tomatoes; and the crust is an old family recipe that is shared with no more than five employees. It's all about simple Italian flavors done the Chicago way. (Photo courtesy Jonathan Porter)