Watch three-time Finals MVP Shaquille O'Neal school us all on how to cook holiday treats using nothing but an Easy-Bake Oven, while wearing a santa hat.
You must remember the Easy-Bake Oven, the toy created in 1963 that either: a) attempted to turn kids into '50s house wives, or b) attempted to breed the next Top Chef: Just Desserts star.
Shaq's first recipe is that comforting holiday treat, bread pudding. He slam dunks four pieces of white bread in a bowl, then adds way too much vanilla, four spoonfuls of sugar, and milk.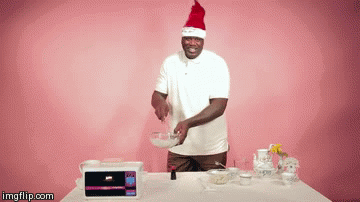 Shaq looks pleased with the results.

His second recipe, tea cakes, somehow goes awry and  gets stuck in the Easy Bake.

Complex reports, "This video isn't just worth a chuckle, it's also got a very important message during this holiday season. As Shaq points out in the end of this clip, there will be over 14 million children who wake up this Christmas without a single present to unwrap. Shaq has partnered with Toys For Tots in an effort to reduce that number, by even the smallest amount."
[via Complex, The Watercooler]