This roundup comes courtesy of our friends at Food52, a recipe website and community of home cooks.
Strip down to your jorts, paint yourself blue, and grab the nearest banana: the Arrested Development season premiere is almost here! Whether you've been a diehard fan from the beginning or you've made a huge mistake and missed the first three seasons, it's hard not to be swept up in the hoopla. The fourth season goes up on Netflix at 3:01 a.m. on May 26 (not that we're counting down or anything), and what better way to celebrate than to cook up enough snacks, treats, and drinks to last you through a 15-episode binge? We've picked recipes the whole Bluth family would enjoy, accompanied by some of the best moments from the show.
Kick off your Arrested Development marathon with Lucille's favorite meal. Want to feel like a member of the Bluth family in no time? Wash down a big slice of grown-up birthday cake with the appropriately named wicked witch martini.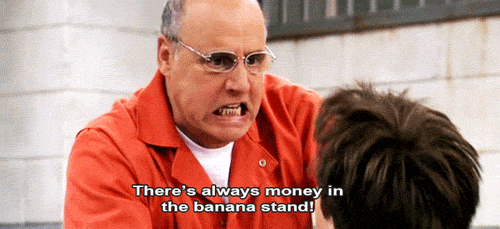 This one's a classic, and you're going to need a snack to commemorate it. How's this: if all of the bananas in the Bluth Banana Stand were put into a food processor, you'd get ice cream. Start buying bananas, people. They're going to go fast.
Just because the Cornballer was found to cause serious burns doesn't mean you can't enjoy corn in its cheesy, crunchy glory while devouring new episodes of Arrested Development. These double corn, quinoa, and cheddar muffins are a safer, yet just as delicious, alternative to cornballs.
One bite of this roasted butterflied chicken—marinated, slathered with yogurt, and browned to perfection—will have you doing your own chicken dance. A-cuckoo-ka-cha!
Put your ham to better use than hot ham water. These ham and manchego croquetas are crusty, cheesy, salty, nutty, and perfect to serve the crowd glued to your screen (bonus: they look like cornballs!).
Lucille Bluth would eat this revamped tuna noodle casserole as a plate or a platter, no questions asked. A few simple changes transform the drab sixties classic into a dish even an eater as "refined" as Lucille would love. Maybe.
Bangers, wurst, sausages—call them what you like, they're delicious (and Tobias agrees). Try your bangers with pasta in this linguine with sausage and broccoli recipe.
Carl Weathers' got a stew going, and so should you—make a springy artichoke stew. No matter there aren't any bones required—we'll still consider your Arrested Development spread on-theme.
And if you stay up all night watching Arrested Development, watch the sun rise with a breakfast fit for Lucille. A basil-vodka gimlet and a piece of maple cinnamon toast (because after all, it's breakfast) should do the trick.