The average human being spends 32,089 hours eating and drinking during the course of a lifetime. But according to the Internet, all of that time and practice has failed to make us experts at putting things in our mouths. Turns out, we've been eating even the most basic of foods all wrong.
If you accept the fact that sushi rice will always end up swimming in soy sauce, well, you've been doing it wrong. And if you think it's completely normal to frost the tip of your nose every time you bite into a cupcake, think again.
Some of the wisdom we've found online actually pretty sensible. Some of it less so. We're of the mind that you should eat however the hell you please (unless local customs dictate otherwise), but it's always good to know that there may, in fact, be a better way to take down a burger.
Here, we present 10 tips and tricks that might revolutionize the way you eat some of your favorite foods, from wings to sushi.
HOW TO EAT HAMBURGERS
DON'T hold a burger with your thumbs on the bottom and fingers on top. Doing this will leave you with some serious burger spillage and a deconstructed mess.
DO take notes from the Japanese show Honma Dekka!? by lining up your pinkies and thumbs on the bottom of the burger, and the rest of your fingers on top. This allows for the burger to be held uniformly, keeping the contents secure. Put your face over the burger and chomp downwards. (GIF: Kotaku)
---
HOW TO EAT SUSHI
DON'T use chopsticks to dunk sushi rice-side-down into soy sauce, because the rice will fall apart and soak up too much of the liquid.
DO follow the lead of the Japanese and pick sushi up with your fingers. Then, dip your sushi into the soy sauce fish-side down and eat it in one bite. (GIF: Foodbeast)
HOW TO EAT CHICKEN WINGS
DON'T suck, bite, or gnaw aimlessly to try to get the meat off of a chicken wing. You'll look like a fool with all of that sauce on your face.
DO remove the connecting cartilage at the end of the wing. Twist and pull out the small bone, then twist and pull out the big bone. You now have a boneless wing (and a lot less sauce on your face). (GIF: Foodbeast)
---
HOW TO EAT CORN
DON'T hold onto the ends of an ear of corn and nibble away at individual kernels, because that's a ton of time wasted.
DO grab a power drill, stick it through the center of the cob, hold the corn up to your mouth, and let the spinning begin. (GIF: Vinnie Mac)
---
HOW TO EAT CUPCAKES
DON'T attack a cupcake from above, unless you want to frost the tip of your nose. Not cute.
DO twist off the bottom portion of the cupcake and stick it on top of the frosting to create a cupcake sandwich. That way, there will be no frosting on your face and no bites without frosting. (GIF: Foodbeast)
HOW TO EAT OREOS
DON'T rely on your hands to dunk Oreos into milk, because that'll leave a dry patch on the cookie where you placed your fingers.
DO carefully insert a fork into the cream filling and give the cookie a nice bath. Be sure not to stick the fork too far into the cookie, as it may separate in the milk. (GIF: Cowboy DIY)
---
HOW TO EAT NEW YORK STYLE PIZZA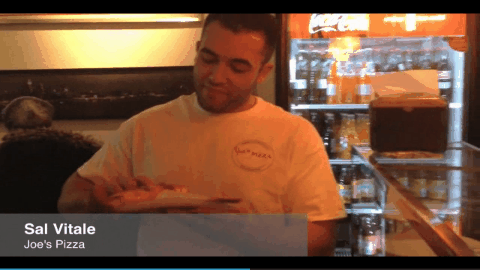 DON'T commit the same crime as Mayor Bill de Blasio by eating New York-style pizza with a fork and knife.
DO pick up the slice with your hands and hold it by the outer crust. Fold the slice horizontally, slowly squeezing the edges of the pizza with your fingers until the two sides touch. Now, all that's left to do is take a bite.
(GIF: NY Daily News)
HOW TO EAT A PINT OF ICE CREAM
DON'T let everyone dig in with a spoon, because we all have that greedy friend who takes way more than his fair share.
DO take a sharp knife and cut right through the tub. Now, you can slice off equal helpings of ice cream for everyone. (GIF: Franck Razal)
---
HOW TO EAT PANCAKES
DON'T drown your syrup in pancakes—it's inefficient. Plus, you'll inevitably end up neglecting the cakes sitting at the bottom of the stack.
DO cut up your pancake stack and pour syrup into the cracks of the cross section to ensure complete pnacake saturation. (Photo: Wonderhowto)
---
HOW TO EAT GOLDFISH
DON'T stick your hand into a bag of Goldfish, because there's a way more efficient way to eat the cheesy crackers.
DO line the Goldfish up on a treadmill, put your mouth at the end of the machine, and turn the machine on to level 10. (GIF: VIne or Die)