You slink into the classy restaurant and take your seat, perusing the lengthy drinks menu before ultimately giving up and asking the man in a sharp suit for a recommendation. The next thing that comes out of his mouth seems like a spy code:
"We have a great vintage of Cabernet Sauvignon from a winery on the Wahluke Slope in the Columbia Valley AVA. Lean, restrained, acidy and alive, with puckery tannins and a velvety mouthfeel. It was the talk of the Grand Tasting at last year's Taste Washington."
Say what?
Yes, for most folks, wine, or rather, processing wine talk, is equivalent to the rigors of learning a second language. Sure, everyone likes to drink the stuff, but ask people to differentiate varietals and regions, or certainly aromas and tastes, and that's when things start to fall apart. Stores have shelf after shelf of bottles, bars and restaurants have page after page of by-the-glass offerings. Many of us just want to drink the stuff without needing a translator to help us order, so it's no surprise most people restrict their industry vocab to simply "red" or "white." Unfortunately, you're doing yourself a major disservice in not explaining just exactly what you'd like to drink.
Talk to a somm or vitner, or especially a "cork dork," and their sentences will be sprinkled with slangy descriptors. To them, wines can be "silky" or "foxy," "lacey" or "flabby," "chewy" and "crunchy," smelling "floral" or even like "cat's pee."
The industry's evocative slang doesn't just add romanticism to the act of drinking wine. It's also there to help unlock a spectrum of flavors and senses. It seems silly at first, but if you think about it, can't you just picture a thick red wine that tastes chewy? Haven't you accidentally poured yourself a "chunky monkey" full of sediment? Can't you sense when you're sipping a "donut wine," completely lacking in the middle of your palate? Haven't you been overwhelmed by a "fruit bomb" or "oak monster" before?
Or are you really just a person who cares about nothing more than whether the wine you're sipping on is "quaffable"?
To help understand this unique industry vernacular, we reached out to a handful of wine experts for guidance:
Madeline 

Puckette, Certified Sommelier with Court of Masters and content director, Wine Folly (Woodinville

, WA)

Chad Walsh, sommelier and beverage director at Agern

 (New York, NY)

Cathy Fabretti, wine ambassador at Casa Larga Vineyards (Rochester, NY)
Pat Henderson, chief winemaker for Kenwood Vineyards (Kenwood, CA)
Gene Pierce, owner at Glenora Wine Cellars (Finger Lakes, NY)
Gaspar Rastrilla, winemaker at Casa de Uco (Mendoza, Argentina)
Lindsay Stevens, winemaker at Treleaven (King Ferry, NY)
Mark Tarlov, founder alit (Dundee, OR)
Ah-So
As in "ah, so easy." A pronged device used to remove old corks (also one-half of the ultra-cork remover, the Durand, which is essentially an Ah-So and a corkscrew hybrid).—Walsh
Balthazar
A 12L bottle equivalent to 16 standard bottles of wine.
Barrel down
Filling barrels.—Henderson
Blue wine
Wines where the flavor spectrum lives in the blue fruit flavors of blueberries, blackberries, plums, etc. Usually a rich wine from warmer climates.—Tarlov
Bodega
A Spanish wine cellar, like the underground cellar at Casa de Uco.—Rastrilla
Boxtree
A polite euphemism for "cat pee" (a smell descriptor), especially in Sauvignon Blanc.—Walsh
Bretty
A wine affected by Brettanomyces, a wild yeast that affects some cellars and smells anywhere from Band-Aid and sweaty leather saddle to horse barn.—Puckette
Brix
Unit of measure for sugar in a wine, tested by specific gravity degrees of Brix.—Stevens
Bugs
Malolactic bacteria.—Henderson
Bung
Closure for a barrel.—Stevens
Bung hole
Hole in a barrel where wine is pumped in and out of.—Stevens
Cat's pee
A smell descriptor often used to describe Sauvignon Blanc.—Rastrilla
Cave
Pronounced with a long "a" sound. A wine fridge.—Walsh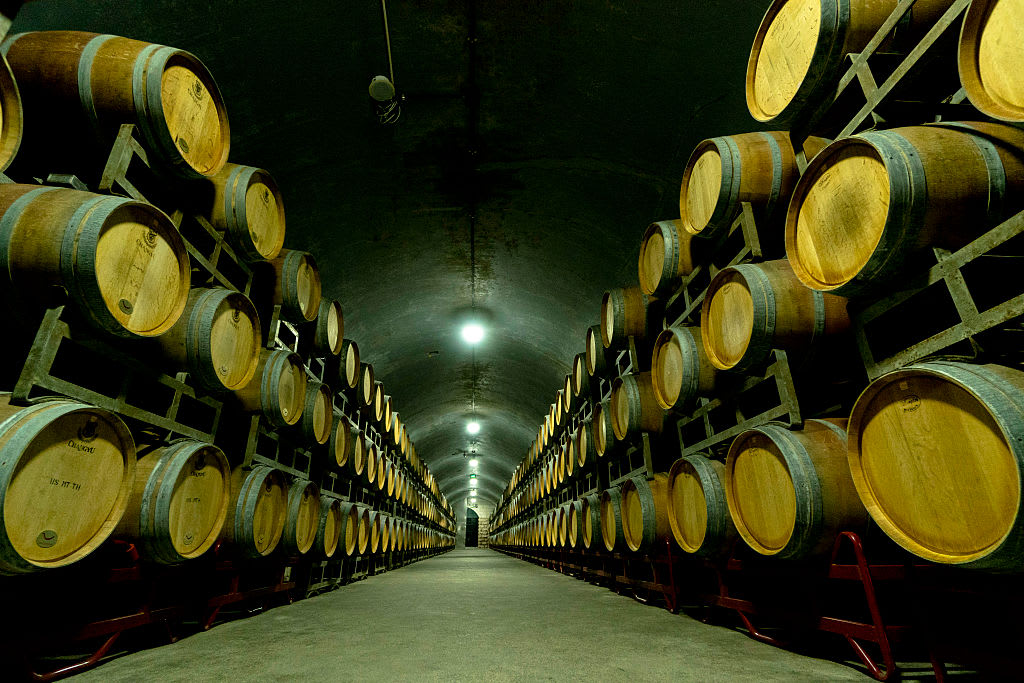 Cellar rats
People who work in wine cellars—low light, humid, and damp conditions. The term cellar rat has been around the wine industry for decades, and probably can be traced back centuries. It is a colloquial term for junior winery workers, those who are most likely assigned the least favorite tasks and the dirty work—cleaning and steaming tanks, running hoses, etc.—Fabretti
Chewy
A wine that is rich and seems almost thick.—Fabretti
Choad
Wine bottles that are short and stubby instead of the typical shape.—Walsh
Chunky Monkey
A wine with a lot of sediment that should probably be decanted.—Walsh
Clingers
Tendrils on a grape cane that reach out to hold the cane to the trellis—but really have no value. On the wine trails, we also call people "clingers" when they do not support local business organizations (dues, time, etc.) but get the benefits!—Pierce
Cold soak
When grapes are crushed and then allowed to macerate on the skins before fermentation or pressing occurs. Typically the grapes are cooled in some way to prevent early fermentation, but it depends on the case and/or set-up of a winery.—Stevens
Corkage cowboy
A guest that often brings their own wine, often to avoid paying the restaurant markup.—Walsh
Cork dork
A wine geek/wine enthusiast.—Henderson
Corked
A wine whose bottle cork has been contaminated by Trichloroanisole, giving it a musty, dank smell and an off taste.—Fabretti
Crunchy
(See "Chewy.")—Puckette
Crush
The season of picking and juicing grapes for fermentation into wine. Usually, a very busy time in the winemaking calendar when winemakers work a lot of overtime hours. (Also known as "harvest.")—Stevens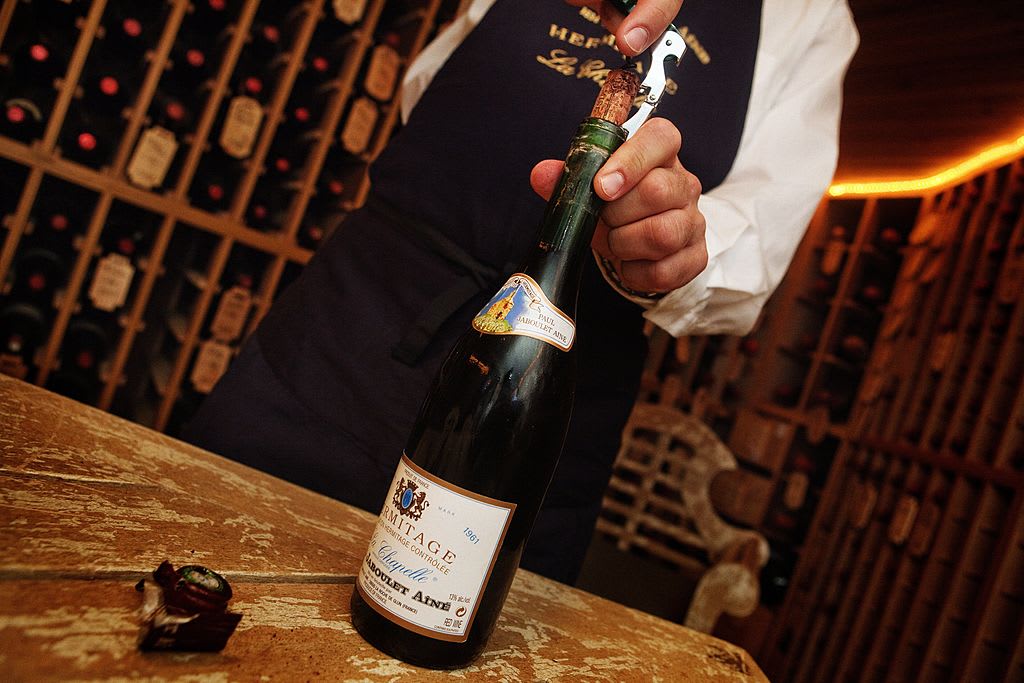 Demi
A 375 mL bottle, half the size of a standard bottle of wine.
Digging out
Removing all the skins from the tank after a red wine has fermented.—Henderson
Donut wine
Wine that is lacking in structure mid-palate.—Henderson
Drink it to the teeth
Drinking the dregs of the bottle, including sediment.—Walsh
Dr. Who wines
Wines that are bigger on the inside. The exterior attributes (texture, weight, etc.) do not match the intensity of the interior attributes. Intensity without weight.—Tarlov
Fly catcher
The last filter as the wine goes into the filler on the bottling line, keeping out any potential fruit flies that may have gotten into the tank.—Henderson
Fruit bomb
A wine with super ripe fruit on the nose and palate. Often times higher in alcohol and higher VA (volatile acidity). —Henderson
Flabby
A wine that has no acidity or structure.—Fabretti
Floating the juice
Separating pulp from grape juice while transferring and injecting nitrogen, therefore "floating" the pulp to the top and leaving the clear juice at the bottom.—Stevens
Floral
A wine that smells like flowers.—Fabretti
Foxy
A wine that smells wild and musky, like a wet fur coat.—Fabretti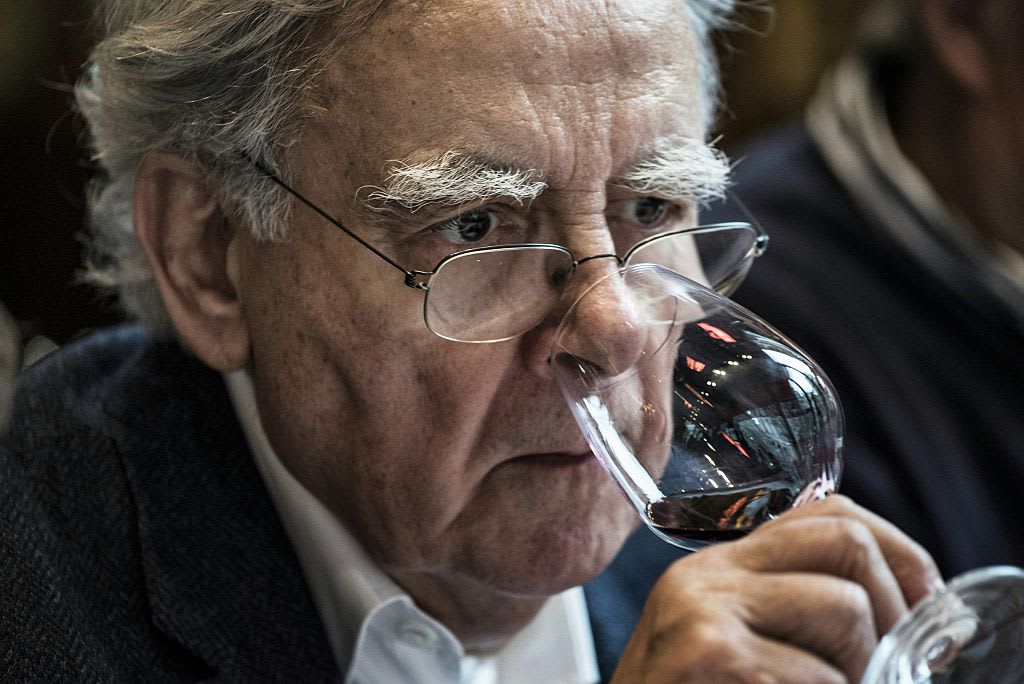 Funky
A wine that smells like a "barnyard," usually from the presence of Brettanomyces, which is a type of yeast.—Tarlov
Good legs
A wine with high alcohol content.—Puckette
Head snapper
A wine that smells so bad your head snaps back—usually from cork taint.—Henderson
Horizontal wines
Wines where you feel the flavor from cheek to cheek. Usually, vines grown in richer valley floor soils.—Tarlov
Hot
A wine with high alcohol that, in some cases, burns your throat.—Puckette
Infanticide
Drinking a wine too young. "We committed infanticide to this bottle of 2005 Chave Hermitage."—Puckette
Jeroboam
A 4.5 L bottle most often used for still wine.
Lacey
Wines that have an open weave. The flavor and texture are not uniform, but offer different sensations as the wine moves through your mouth.—Tarlov
​Lees
Dead yeast remaining after the alcoholic fermentation.—Stevens
Magnum
A 1.5 L bottle equivalent to two standard bottles of wine.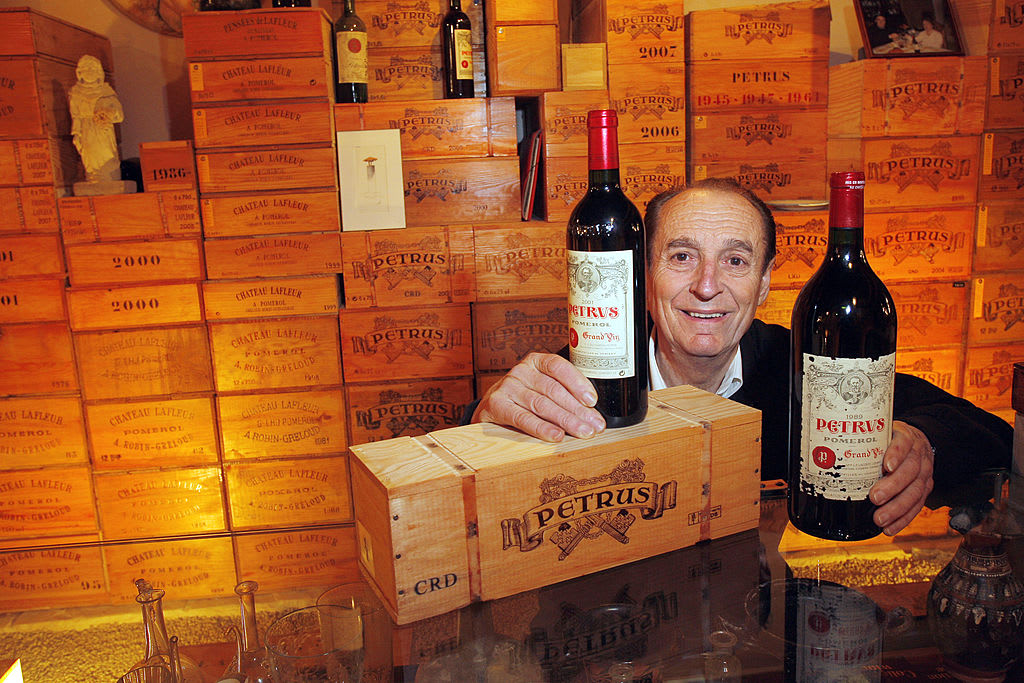 Making wine in the nude
Winemaking where you don't use any added yeast or sulfites.—Henderson  
Mousiness
Another wine flaw that is often overlooked—being that it cannot be detected by smell, only taste—that can make the wine taste like popcorn or corn chips, or more often that not, like rodents have been present.—Walsh
Mouthfeel
The various sensations like thick or thin, round or lean, that a wine can create while in the mouth.—Rastrilla
Must
Crushed grapes before they ferment.—Henderson
Nebuchadnezzar
A 15L bottle equivalent to 20 standard bottles of wine.
New World
Wines produced outside of the traditional wine growing areas of Europe and North Africa.—Rastrilla
Oak monster
A wine that is far too oaky, usually from having spent far too much time in the barrel.—Puckette
On the skins
When wine and grapes are left together after the alcoholic fermentation for a period of time before the wine is pressed from the skins and seeds. Its technical name is "extending maceration," but is also called leaving a wine "on the skins." —Stevens
Open
Allowing flavors and textures to show themselves by exposing the wine to air and time.—Tarlov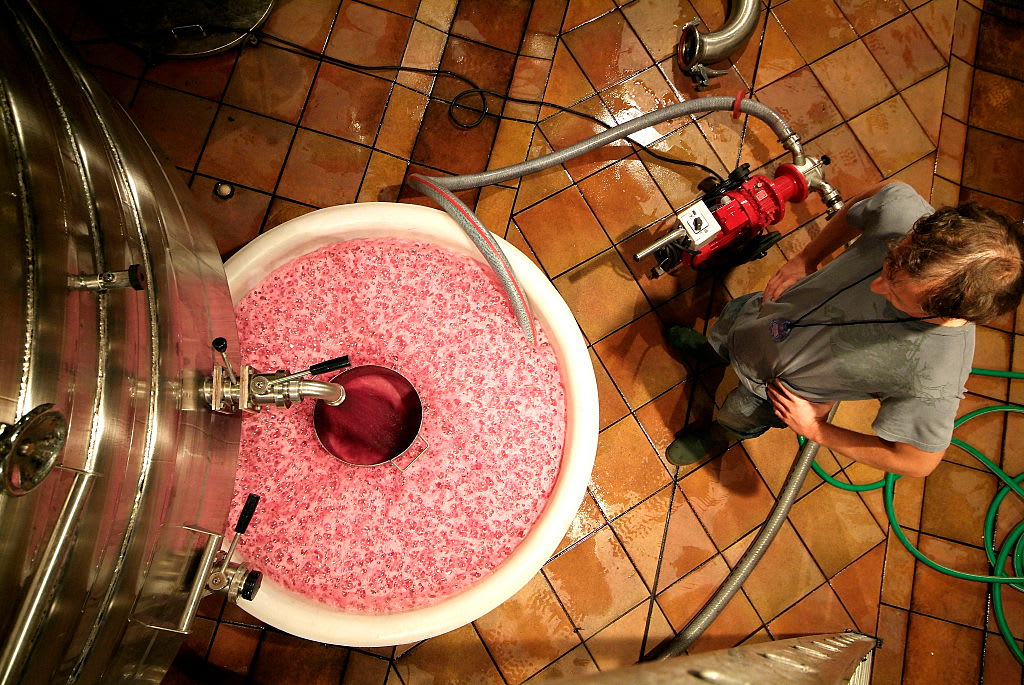 Quaffable
Wines you drink without a thought about the wine. They just taste good. You can drink a lot of these wines.—Tarlov
Rack
The transfer of wine from tank to tank, sometimes done as a clarifying step when a "racking valve" is used on a tank.—Stevens
Racking valve
A special valve placed above the bottom of the tank to remove clear wine from the lees (see above).—Stevens
Salmanazar
A 9L bottle equivalent to a full case (12 standard bottles) of wine.
Scottie Pippen's hair
Sometimes fermentations expand so much during the warmest phase that the cap extends above the fermenter and looks a lot like NBA Hall-of-Famer Scottie Pippen's hair from back in the '90s.—Sparkman
Silky
A wine that slips through your mouth like silk. You can't quite get it to grip.—Tarlov
Stems
Glassware, or a pretty girl's legs.—Walsh
Tank jacket
An extra layer of stainless steel on the outside of the tank that allows coolant to flow on the exterior for chilling the wine or juice held inside.—Stevens
Tannic
Wines where you feel the drying effects of wood or plant tannins.—Tarlov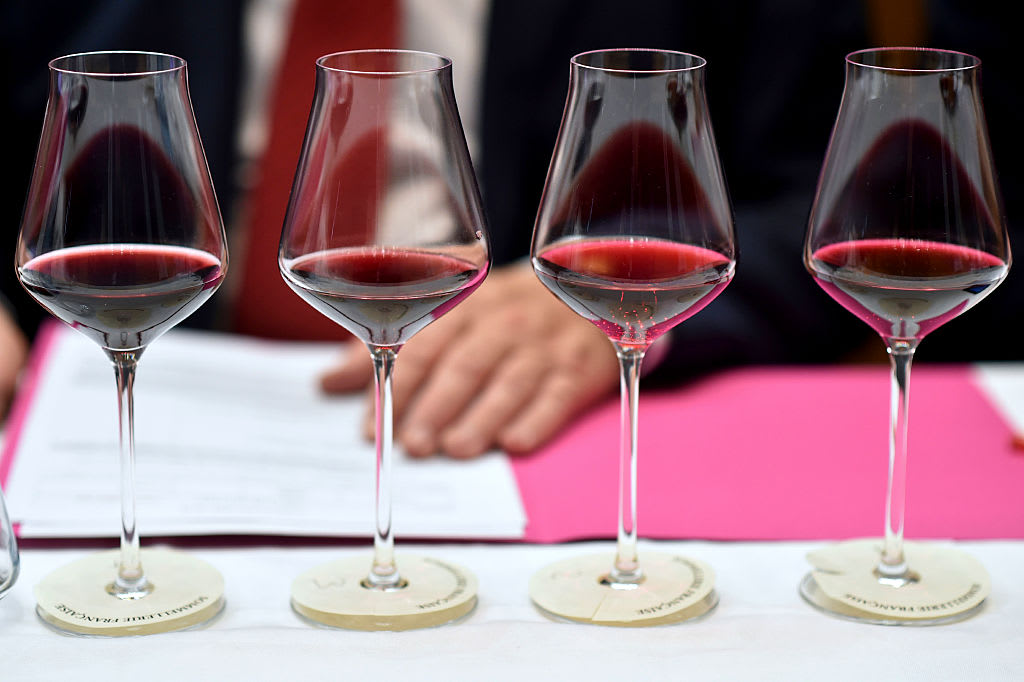 TGIKLOP
"When the skins come out of the press during harvest, there are often large lumps that look like bear turds. We call them TGIKLOP, which is a term my daughter came up with—not sure why."—Sparkman
Tight
A wine that it is not ready to drink.—Fabretti
Topping barrels
Filling barrels full after evaporation has occurred during the aging process.—Stevens
Unicorn
A rare bottle, especially one that won't be made again, or an even rarer release of an already rare winery. Also called a "Snow leopard."—Walsh
Vertical wines
Wines where you feel the flavor from your tongue to the roof of your mouth. Usually, vines are grown in rockier, more stress-inducing soils.—Tarlov
Violet
A positive aroma found in fine Cab, Merlot, and Petit Verdot.—Puckette
Waiter's friend
A popular type of corkscrew.—Rastrilla
Wine-o-clock
"Time to drink wine."—Rastrilla
Wine thief
Large glass straw used for removing a sample of wine from a barrel.—Stevens
Worm
The corkscrew portion of a wine key, as in "we were so busy my worm was hot to the touch."—Walsh
For an opportunity to put your wine slang to use, check out the 20th annual Taste Washington wine festival in Seattle.