While Seinfeld is full of practical wisdom ("Just remember, it's not a lie...if you believe it."), committing a crime based on the flawed logic of Cosmo Kramer, a man who dries his clothes in a pizza oven and bastes himself in butter like a turkey, is not the smartest plan.
Still, one brave soul seems to have attempted to recreate the titular scheme from the "The Bottle Deposit," an episode that features Kramer and Newman collecting bags of cans, loading up a mail truck, and driving to Michigan where recyclables can be refunded for 10 cents apiece, the highest rate in the country.
While the plan has its challenges from the beginning—between gas and tolls, one would be lucky to break even—it turns out that brilliant scam is also against the law. Last week, a man in Kentucky named Brian Edward Everidge stood trial after being caught with over 10,000 cans in a Budget Truck Rental​. According to the Livingston Daily Press & Argus, Everidge is being charged with "one count of beverage return of nonrefundable bottles," and could face five years in prison if convicted.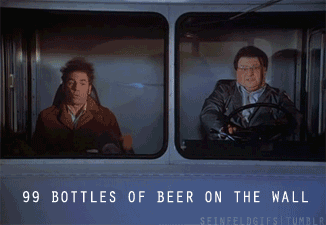 Everidge's truck was allegedly "packed" with empty aluminum cans when he was pulled over for speeding in April.
"I don't think you could have put another five or 10 cans in there," Clifford Lyden, the arresting officer, testified. "It was packed."
Though it's apparently illegal to move cans from one state to another in order to pocket a higher refund, Everidge's lawyer—who is not named Jackie Chiles—claims his client is innocent since he never actually tried to deposit his recyclable loot.
"They caught him too early," the attorney said in court. "He attempted to attempt to return the bottles....This statute doesn't fit."
Still, the fact that Everidge was trying to exchange so much aluminum could be his undoing. When more than 10,000 can are involved, the case becomes a felony.
Perhaps Kramer was right after all, the great Michigan deposit bottle scam just can't be done.
"You tried it?" Newman asks the Caveman in the episode. "Oh yeah. Every which way. Couldn't crunch the numbers," he replies. "It drove me crazy."