Airlines may want to stick to serving craft beer if they want their flights to take off on time. According to a new report from the New York Times, published on Monday, broken coffeepots may be the number one offender when it comes to pesky flight delays. 
While any number of roadblocks can lead to a postponed departure—rain storms, missing paperwork, technical difficulties, etc.—it's also not a complicated brewing process or a malfunctioning French press that's keeping passengers buckled up and ready for takeoff. Rather, on-board, industrial coffeepots, which can cost between $7,000 and $20,000 a piece, are especially susceptible to electrical malfunctions and can slowly the process down considerably. 
As a safety precaution, these on-board coffeepots come decked out with circuit breakers and wiring insulation to protect against fires. That's great, but if anything goes wrong with the coffee maker it may mean that another piece of equipment is not working properly either, and the Federal Aviation Administration requires a full investigation before an aircraft can fly. 
Robert Isom, the chief of operations for American Airlines, blamed an "inordinate amount of coffee maker problems" for lagging flights in a recent podcast. "If we can't find a fix, we ought to just replace all the coffee makers," he said.
Isom declined to tell the Times exactly how many flights are delayed due to coffee maker problems each year, but did note that the airline is replacing malfunctioning units on "many of its planes."​
Brewing coffee on an airplane is a tricky business, and the practice is almost repulsive enough to put you off java for good. On many commercial airplanes, chemically-treated water is used to brew fresh coffee in an attempt to kill bacteria. One reason a coffeepot may break down, however, is that residue builds up and clogs the machinery (just think of your moldy Keurig sitting at home), and is often not cleaned enough by maintenance crews. 
"I don't drink the coffee unless I know the water's coming from a bottle," Marcos Jimenez, an engineer at Zodiac Aerospace, who develops in-flight coffee technology, told the Times simply. 
Still, another hazard of airplane coffee is spilling. In-flight coffeepots are designed to stay put during turbulence, but coffee cups are another story.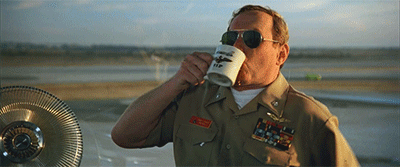 An easy solution, one might think, would be to pull these industrial coffeepots off airplanes entirely, forcing caffeine-addicted travelers to load up at the airport Starbucks before boarding. Still, the situation is a bit more complicated than that, and predictably littered with red tape.
"You have to do all kinds of engineering and analysis and provide test results to the F.A.A. to get approval," Jeff Lowe, the president of a certified airplane repair station called Aviation Fabricators, told the Times. "You can't just put Mr. Coffee in an airline."
[via New York Times]