Confused about how many calories you just consumed after chugging that can of Budweiser? Well, beer drinking is about to get a bit more transparent thanks to a new, voluntary initiative from the Beer Institute—a trade organization that represents the country's $246 billion beer industry, as well as more than 2,800 individual breweries.
Dubbed the Brewers' Voluntary Disclosure Initiative, the new plan was unveiled on Tuesday, with the institute calling on participating companies to begin sharing nutritional information on their packagings. Anheuser-Busch, MillerCoors, HeinekenUSA, Constellation Brands Beer Division, North American Breweries and Craft Brew Alliance have all agreed to the initiative, and together the companies account for roughly 81 percent of beer producers in the US.
"The Beer Institute, and its member companies, believes this is a step in the right direction to demonstrate a commitment to quality and transparency through these voluntary measures," Jim McGreevy, the president and CEO of Beer Institute, said in a statement. "Beer is the most popular alcohol beverage in the United States, and I look forward to brewers and importers including a serving facts statement along with disclosing all ingredients in their products."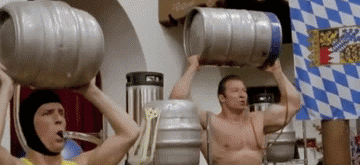 "Providing meaningful information will ultimately empower the consumer when making decisions regarding the beer beverage of their choice," he added.
Brewers, for their part, have a few different ways in which they can provide that "meaningful information" to consumers. Individual bottles or cases can display "serving facts," which will help customers better understand the product's calories, carbohydrates, protein, fat, and alcohol content. From there, either a separate list included on the case, or a QR code located on the packaging, will provide additional information on ingredients and freshness. 
Unlike food products and other beverages, beer companies never displayed nutritional information directly on their beverages. If consumers wanted to know how many calories they were consuming, or what ingredients were in their brews, they had to do a bit of digging to get that information.  
Still, consumers were ready to know more about what they were sipping. A recent Harris Poll revealed that 72 percent of beer drinkers wanted clear information about their beverages, and now brewers finally seem ready to comply. 
"I applaud the Beer Institute for encouraging its members to include valuable consumer information through a serving facts statement and list of ingredients," Tommy Thompson, the former secretary of the Department of Health and Human Services, said in a statement. "American consumers are more informed than ever, and they want to know about the food and beverages that they are eating and drinking."
"The Beer Institute and the companies that have chosen to participate in the Brewers' Voluntary Disclosure Initiative are providing real leadership in the alcohol beverage industry by voluntarily providing this information," he continued. 
No word yet on when the new information will be available, but it seems likely more than a few diets will need some tweaking.  
[via Beer Institute]