Congratulations craft beer aficionados, you now have one more thing to lord over the macro-lager commoners. According to a recent study by the Harris Poll, craft beer fans boast healthier drinking practices than their cheap beer and liquor-sipping counterparts, as well as better workout and eating habits. 
The study polled 1,978 adults and found that 73 percent of craft beer fans view their drinking as an indulgence reserved for special occasions, compared to a slightly lower 67 percent for non-craft beer drinkers. But after breaking the numbers down by age groups, the researchers found that the numbers shifted, with even more millennials viewing their sour ales and double IPAs as precious, special commodities.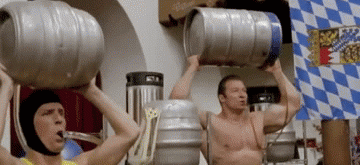 As for exercise, 57 percent of craft drinkers reported working out on a regular basis, while only 52 percent of average drinkers claimed to pump any iron. And when it comes to socializing while hitting the gym, 40 percent of craft beer drinkers say they workout in groups, while only 32 percent of regular drinkers do the same. Craft beer drinkers are also 6 percent more likely to seek out locally produced food and drinks, and 4 percent more likely to look at the amount of calories they're consuming.
According to experts, beer companies could learn a thing or two from these trends. Danelle Kosmal, vice president of Nielsen's Beverage Alcohol Practice, sees the data as another example of the strong relationships craft breweries are building with their customers.
"First, it's important for brewers to prioritize weekends for their biggest events in-store or at the brew pub and tasting rooms. This is when craft drinkers are thinking most about beer-drinking occasions," Kosmal told the Harris Poll. "However, there also could be new opportunities to engage craft drinkers by creating weekday drinking occasions." 
"Many brewers are already doing this through events like brewery-sponsored yoga or weekly group runs," she continued. "It is a great way for craft drinkers to stick with their fitness plans, while still engaging in a fun, social activity, and then enjoying a beer with friends who share similar fitness goals and interests."
While craft beer fans may consume less, at least they're passionate about their brew. 
[via Harris Poll, Uproxx]