It's no secret that America has long battled an obesity epidemic. According to the CDC, more than one third of the country's children were either overweight or obese in 2012, with the condition affecting roughly 12.7 million of the nation's boys and girls. And for just as long, musicians, actors, and athletes have been partnering with food and beverage companies, driving consumers to a bevy of products bearing their names. Now, according to a new study published in the journal Pediatrics this month, the link between the two trends might be stronger than we initially thought.
"Because of [the US]'s childhood and teenage obesity public health crises, it is important to raise awareness about how companies are using celebrities popular with these audiences to market their unhealthy products," Dr. Marie Bragg, a psychologist at New York University's Langone Medical Center, told the Guardian on Sunday. "Research has already shown that food advertising leads to overeating and the food industry spends $1.8 billion per year marketing to youth alone."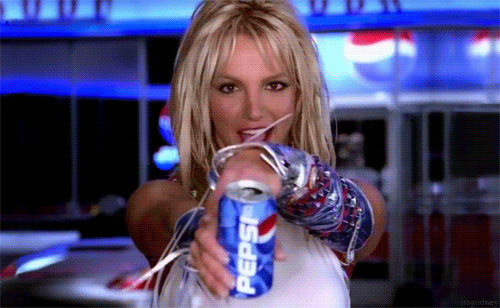 While compiling data for the study, Bragg and her colleagues found that between 2000 and 2014, 65 celebrities had been involved in advertising campaigns for 57 food and beverage brands owned by 38 different companies. Among these celebrities were high-profile stars like Beyoncé, Britney Spears, Nicki Minaj, Justin Timberlake, Katy Perry, Mariah Carey, and Will.I.Am, and most of the endorsements were for full-calorie soda brands like Coke and Pepsi.
Fast-food and candy companies were also major players, though one celebrity endorsed Wonderful Pistachios (Stephen Colbert?), and Taylor Swift was involved in a campaign for Diet Coke. Still, over 80 percent of the selected 26 food products were deemed "nutrient poor."
"The popularity of music celebrities among adolescents makes them uniquely poised to serve as positive role models," Alysa Miller, another researcher from NYU, told the Daily Mail. "Celebrities should be aware that their endorsements could exacerbate society's struggle with obesity. They should endorse healthy products instead."
Most recently, Beyoncé, perhaps the biggest name included in the study, has aligned herself with WTRMLN WTR, a bottled watermelon juice made from "waste melons." Still, according to the Huffington Post, one cup of the drink contains 12 grams of sugar.
[via Guardian, Daily Mail]