In the weeks following the passage of North Carolina's controversial HB2 bill—a law that would dictate which public bathrooms transgender people can and cannot use—the backlash from the rest of the country has been swift and severe. Most notably, the state and the U.S. Justice Department are suing each other over the legislation, with the DOJ threatening to withdraw funding from the North Carolina Department of Public Safety and UNC. Artists like Bruce Springsteen and Ringo Starr have canceled performances in the area, and according to a report from the University of California's Williams Institute, North Carolina could stand to lose $5 billion annually from the fallout.
There's already ample reason to overturn the bill (we imagine the porn-site xHamster boycotting the state was the final straw for some...), but now craft brewers are beginning to protest the legislation, too. In an act of subtle subversion, Asheville's Wedge Brewing Company has begun printing "#F*CK HB2" on the bottom of its cans, disguising a message to NC lawmakers as a serial number​.
"Let's keep our community open and welcoming to all," the Brewery wrote on its Facebook page in April. "The Wedge is a proud supporter of 'Don't Be Mean to People.'"
In addition to the Wedge, more than 40 other North Carolina bars, pubs, and breweries have come together to form Don't Be Mean to People, an online fundraising campaign that's pooled over $40,000 to fight HB2. The campaign has skyrocketed past its initial goal of $1,500, receiving contributions from 1,236 donors in just one month's time. Local businesses have also donated ingredients toward the production of "Don't Be Mean to People: a golden rule (saison)," a farmhouse ale made North Carolina malted grain and sorghum molasses.
"We've seen businesses, municipalities, and even rock legends from around the country punish North Carolina for passing this law. We've seen business expansions and job opportunities pull out of the state. We see that our communities are being harmed by this action," Erik Lars Myers, the founder Mystery Brewing Company, wrote on the groups Generosity.com page. "But we can't do that with our businesses. This is our home, where we're trying to establish roots and grow. We can't leave; we are left to deal with the consequences created by our General Assembly."
The money raised by the campaign will go to Equality NC, a local LGBT justice organization, and QORDS, a group that hosts overnight summer camps for queer and trans youth in the South.
"We see this beer as a means to an end and a social statement," Myers wrote.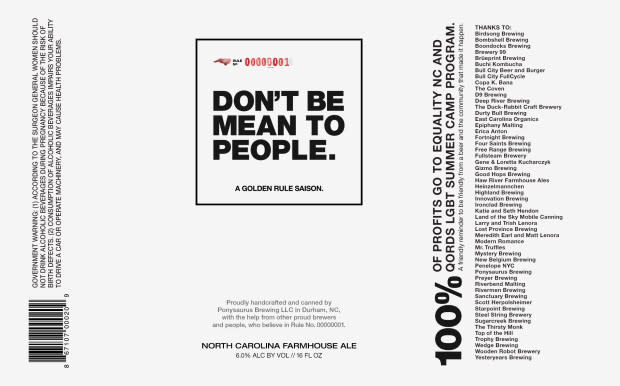 [via Uproxx]