Rainbow-colored bagels and technicolor grilled cheese sandwiches. Bloody Marys with whole fried chickens teetering on top. Milkshakes crowned with massive tufts of cotton candy and enough s'mores ingredients to service an entire Boy Scout troop. Nowadays, we talk about food like we do celebrities—does it have social-media "star potential"? 
Instagram has changed modern dining as we know it. It seems many as-yet-unknown restaurants are more concerned with impressing smartphone users with their latest viral dish, hedging their bets on something that will shock customers as opposed to contributing something worthwhile. There's clearly a reason they keep doing it though.
Walk by either of Black Tap's two locations in Manhattan and you'll see a line snaking around the block. These are eager tourists who have seen the restaurant's over-the-top milkshakes spread like wildfire on the Internet—and are now psyched to finally meet the Sweet 'n' Salty or Sour Power Shake in person and snap a pic for proof.
people sometimes show me a picture on their phone and say, 'Can I have that one?'
By the looks of things, this viral food madness won't be ending any time soon—especially now that chic bars are entering the fray. I can't tell you how many turquoise drinks I've seen in the last year or so. A glowing blue drink used to be anathema to the modern cocktail crowd, a sure sign of a cheesy chain and an amateur hour barkeep. No longer. Even acclaimed bartenders are figuring out ways to make visually stunning drinks—Instagramable libations—that are also stunningly delicious.
"I don't know how much direct impact Instagram has on people's (drink) choices," Michael Neff, a bartender at Holiday Cocktail Lounge told me last year. "That said, people do sometimes show me a picture on their phone and say, 'Can I have that one?'"
Yet, even if alcohol is becoming more 'gramable, there still hasn't truly been a viral cocktail—some colorful concoction akin to the Cronut or a Black Tap milkshake or a rainbow-colored bagel. (I'm not counting the stuff-more-shit-atop-a-Bloody-Mary wars, a silly contest that has nothing to do with the alcohol hiding underneath the sliders and giant pickle spears).
So, wanting to see if I could possibly help spur the first viral cocktail in this third-wave of #foodporn, I hit up three of New York City's most prestigious mixologists, tasking them to make the most insane, most photogenic, most hashtagable, most "Black Tap-esque" margarita to celebrate Cinco de Mayo.
Here are their valiant attempts—now it's up to you to decide if they will actually go viral.
Josh Mazza, Belle Shoals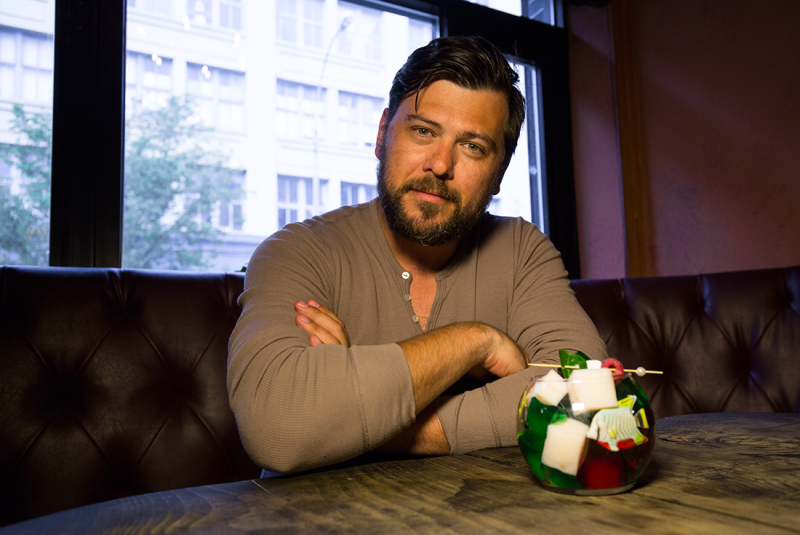 For what he calls the Feria Margarita, Mazza explains that he was "inspired by the local fairs I attended with my grandparents as a child." Originally from Australia, Mazza is now a bartender at Brooklyn's hottest new cocktail bar, Belle Shoals, which has a stated goal of "(bringing) the soul of the South to Williamsburg." And surely nothing says "South" more than county fairs and Jell-o-based libations. "The drink is supposed to be playful and youthful," Mazza explains, something he's noticed tends to help a cocktail's virality and Instagramability amongst customers. Belle Shoals, 10 Hope St, Williamsburg (718-218-6027), ingoodcompanyhg.com
Pamela Wiznitzer, Seamstress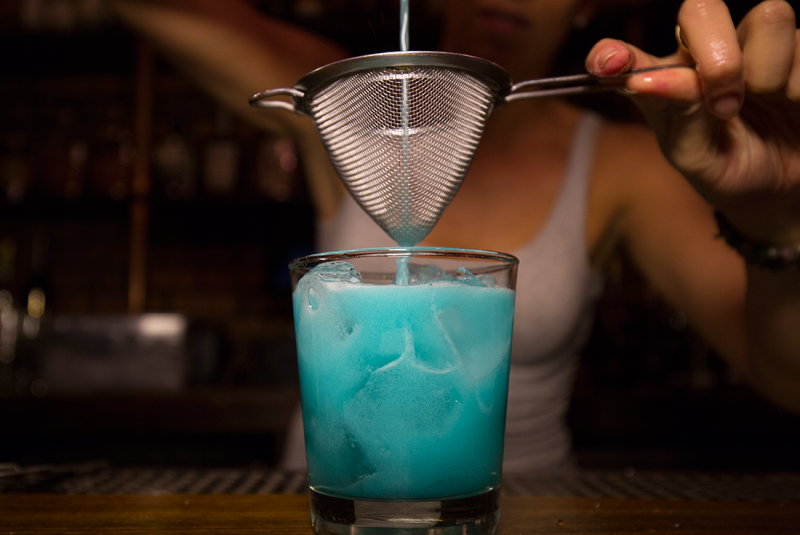 "It's going to look awesome," Wiznitzer confidently replies when I ask if she's up for the viral margarita challenge. She clearly knows about virality—Wiznitzer, the creative director for Seamstress on the Upper East Side, has had a meteoric rise herself and quickly become one of New York's most famous bartenders. She calls her margarita "a fun and whimsical play on a day at the beach," while highlighting the best components of a margarita. She adds her own twists by including mezcal and turning the traditional salt rim into a foam in order to better incorporate the flavors. For her cocktail coup de grace, she tops the blue drink with gummy sharks. "What's better than candy in a cocktail?" she asks. Seamstress, 339 E 75th St, Upper East Side (212-288-8033), seamstressny.com
Recipe
1 oz blanco tequila
1 oz mezcal
½ blue Curaçao
½ honey syrup (1 to 1 ratio of honey to water)
1 oz lime juice
egg white salt foam*
gummy sharks
In a shaker, combine all ingredients except the egg whites. Shake and strain into a lowball glass with ice.
*In a separate shaker, add 2 egg whites and a half tsp. of kosher salt. Dry shake (with no ice) until the egg whites turn into a foam. Lightly spoon the foam on top of the drink. Garnish with a few gummy sharks.
Laura Newman, Mother of Pearl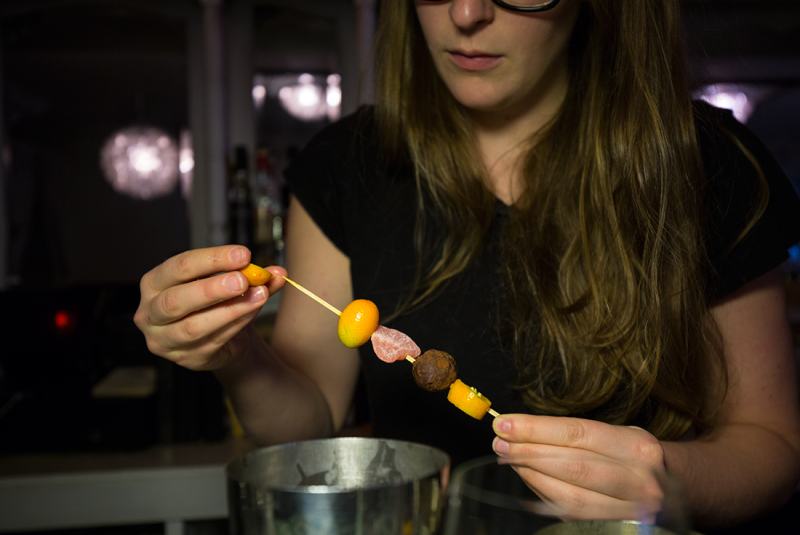 "As a tiki bartender, I'm already all about using crazy, over-the-top garnishes, so this came pretty naturally for me," Newman tells me. She works behind the stick at Mother of Pearl, one of New York's few tiki bars—and definitely it's most glitzy and high-end take on Polynesian potables. "We're constantly trying to push the envelope when it comes to delighting and surprising our guests." Her margarita was inspired by the melting pot of flavors that is New York City. "I originally wanted to go with a chocolate element [Patrón XO Café] for a savory margarita and a homage to Mexican mole sauce," she explains, "but then thought to pair toasted sesame oil and kumquats with it after a stroll through a night market in Chinatown." For her final step, she lights the kumquats on fire, jokingly telling me: "Don't tell a tiki bartender to make a crazy drink without expecting fire!" Mother of Pearl, 95 Ave A, Alphabet City (212-614-6818), motherofpearlnyc.com
Recipe
1½ oz silver tequila
1 oz Patrón XO Cafe
¾ oz lemon juice
½ oz Patrón Citrónge Orange
1 barspoon toasted sesame oil
Kumquats