In summers past, cans of Budweiser have been emblazoned with images of the Statue of Liberty and the star-spangled banner, gulped down at Fourth of July barbecues as symbols of patriotic inebriation. In line with that tradition, the beer company has long billed itself as the "Great American Lager." But now, Anheuser-Busch InBev—the multinational brewing company that owns the "King of Beers"—is aiming to make things even simpler for its consumers, hoping to nix the name "Budweiser" altogether in favor of labeling the drink "America."
Ad Age first reported the news on Friday, citing a recent filing from the company with the Alcohol and Tobacco Tax and Trade Bureau. The alleged renaming would only be for the summer, but the cans will also feature über patriotic phrases like "indivisible since 1776" and "from the redwood forest to the Gulf stream waters, this land was made for you and me."
Budweiser and AB InBev declined Ad Age's request for comment on the labeling, but didn't deny the company's eagerness to capitalize on this summer's patriotism.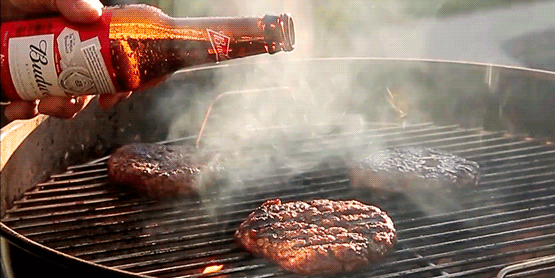 "You have this wave of patriotism that is going to go up and down throughout the summertime," Jorn Socquet, AB InBev's vice president of U.S. marketing, said in a statement. Ad Age notes that the name change would come right in time for the 2016 Olympics, where the beer is the official sponsor for the U.S.  "And we found with Budweiser such a beautiful angle to play on that sentiment."
In addition to the Olympics, the campaign also coincides with the 2016 presidential election, and the connection to Donald Trump's widely-mocked "Make America Great Again" slogan—emblazoned in white lettering across red trucker hats—is obvious. Still, Trump went one step further in an interview with Fox and Friends​, claiming that Budweiser was directly inspired by his message. 
"I think so," he said. "They're so impressed with what our country will become that they decided to do this before the fact." (Bernie Sanders, on the other hand, has taken up a slightly more alternative taste in beverages in recent months, posing with craft beers.)
Even though the company still operates breweries in the U.S., we couldn't help but see the irony in Budweiser—which has been owned by Leuven, Belgium-based AB InBev since 2008—renaming itself something so boldy patriotic. AB InBev claims to be the world's largest brewer, and in recent years the company has faced harsh scrutiny for misleading consumers over the regional authenticity of its products.
In 2015, AB InBev was forced to pay millions of dollars after a class action lawsuit found that the company had tricked consumers into thinking Beck's was brewed in Germany, when in fact it had been made in St. Louis since 2012. Earlier that year, a judge also ruled that AB InBev's Kirin Ichiban was "deceptively advertised as being imported from Japan."
If that wasn't enough, a subsidiary of AB InBev is wrapped up in another scandal this week involving price-fixing in Germany.
[via Ad Age]