Though Beyoncé is most commonly associated with appearing "flawless," the singer's latest business venture, WTRMLN WTR, will incorporate "ugly fruit" in its product.
Fresh on the heels of Lemonade—the artist's latest, surprise visual album—Beyoncé fans might have been expecting something a bit more citrus-flavored from the pop star. The drink will include some organic lemon juice, but the lion's share of liquid comes from "waste melons"—blemished produce that otherwise would have been discarded.
"I invested in WTRMLN WTR because it's the future of clean, natural hydration; as partners, we share a simple mission to deliver accessible wellness to the world," Beyoncé said in a press release. While lemons are taking center stage right now, Beyoncé famously sang that she'd been "drinking watermelon" in 2013's "Drunk in Love." "This is more than an investment in a brand, it's an investment in female leaders, fitness, American farmers, and the health of people and our planet."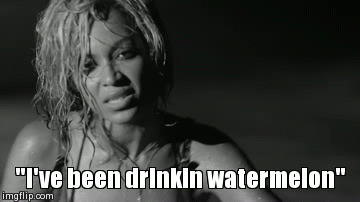 For years there's been a growing movement in America to rebrand ugly produce as a means of combating food waste (according to a 2012 Washington Post article, the U.S. wastes $165 billion in food each year). The idea is that aesthetically challenged fruits and vegetables taste just as good their perfectly round counterparts—and are available at a cheaper price. A report from NPR last month suggests that marred fruit might also be a greater source of nutrients.
"Ugly fruits actually bear the visible scars of their successful battles — dimpled or scarred where they fought off a biting or gnawing insect or surface infection," the article reads. "Next time you hesitate over a flawed fruit, remember that it may be a hardy survivor bearing hidden nutritive gifts."
While Beyoncé​ is the first major celebrity to embrace the ugly fruit trend, chefs have been championing the movement for years. Most notably, Blue Hill's Dan Barber created a community called wastED, which seeks to bring chefs, farmers, fishermen, distributors, processors, producers, designers and retailers together to "reconceive 'waste' that occurs at every link in the food chain.​"
In 2015, First We Feast brought Mario Batali and Dogfish Head's Sam Calagione​ together to make beer from food waste and discuss Barber's wastED movement.